What you will find on this page: handy tips to assist households prepare (video); more videos about the need to prepare (4); things you need to know about insurance; Bushfire Prone Areas/BAL ratings; "out of control" what does it mean; bushfire facts & 12 quick tips; preparing your plan: FireReady Quiz; CFA Fire Ready Kit; CFA Fireguard Program; more plan formats; other State planning material: ACT, NSW, SA & Tasmania; other guides – garden planning, pets, buildings, ember protection; comprehensive resource material; community organisations – building resilience (links in blue)
FireAware Network – be prepared
Is your plan up to date? Do you have one?
Please note the information provided on this page is not for the purpose of giving advice and the Brown Hill Community FireAware Network makes no claim as to the accuracy of the content provided. The BHCFAN accepts no liability to any person for the information provided on this page. The information is offered in good faith for those wishing to take responsibility for their own informed decisions.
Assoc Professor Kevin Tolhurst provides a few key actions for residents to assist them in lowering the bushfire risk to themselves and their neighbours.
To access background on Assoc Professor Kevin Tolhurst go here
Get to know your neighbours: share your bushfire plans and find ways to work together. Even 3 or 4 households could do much to lower the fire risk to themselves and their neighbours.
Stay informed: Work out alternative ways to keep informed of possible fire threats to the area and how to share that information amongst your neighbours. Watch the weather!
Give your house the best chance of surviving by preparing your property well before the fire season irrespective if you plan to stay and defend or leave.
Have a bushfire plan: know what you are going to do pre-season; on high fire risk days and days leading up to them; decide if you are going to leave, or stay and defend, and then have a plan to know what to do if circumstances change; know the triggers for when decisions will be made; review your plan regularly.
REMEMBER: If a plan is not written down and practiced – it is NOT a plan!
CFA Local: For a faster, easier way to find local information on total fire ban days and fire danger ratings. 
Videos
A following light-hearted video on bushfire planning with a serious message has been praised by emergency services representatives. The video "Do you have a fire plan," was produced by the Warrandyte Community Association and the Warrandyte Theatre Company, as part of a 'Toolkit' of six activities designed to raise awareness and understanding of the problem.
The above video was made specifically for the Warrandyte community but it can equally apply to all Bushfire Prone communities.
 Making your bushfire plan can be easier than you think

Source: NSW Rural Fire Service Access this site for more information and planning options
Clear up or clear out 

Source: CFA clearing trees and vegetation
CFA Prepare and maintain your property: Everyone in Victoria who lives near dense forest, bush, grassland or the coast needs to prepare their property for bushfire. Access CFA tips and advice to prepare your property.
Getting your insurance ready for bushfire season – things you need to know – 6 November 2019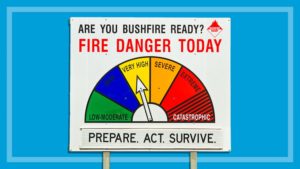 All home insurance policies offer cover for bushfire, but you should make sure your home and belongings are insured for the right amount

Take into account extra costs, including demolition, debris removal and compliance with modern building codes

Get familiar with your policy documents so you know exactly what you can claim for – and what you can't
In many parts of the country, bushfire season is starting earlier and ending later. The climate crisis is bringing us more intense drought and more days of severe fire weather. If your home is close to bushland, it's more important than ever to make sure your insurance is up to date. Your local rural fire service has information on preparing your property for fire, but we can help you make sure your aren't left financially high and dry if fire hits your home. Access the following links for further information:
About the Sum Sure calculator
The Sum Sure building insurance calculator was developed by Cordell, a building data company owned by property data company CoreLogic. It's available on the Understand Insurance website, which is an initiative of the Insurance Council of Australia. The calculator shows pictures of the actual house, provides details of its attributes and allows homeowners to adjust details, such as type of walls, so they get more accurate figures. CoreLogic is hoping it will 'reduce the problem of underinsurance'. Sum Sure calculations are based on the address of the house and can automatically generate rebuild costs for about half of the residential properties in Australia, with property data collected from sources like real estate listings and auction results.
SOURCE: CHOICE
NOTE: Some states' highest rating is "catastrophic"; Victoria's highest rating is "code red"
What are "Bushfire Prone Areas"? What are "BAL ratings"?
Bush fire prone areas are areas identified to be subject to, or likely subject to, bushfire attack. It is recognized by the presence of, and proximity to, bush fire prone vegetation, and includes both the area containing the bush fire prone vegetation and a 100m buffer zone immediately surrounding it.
A Bushfire Attack Level (BAL) is a means of measuring the severity of a building's potential exposure to ember attack, radiant heat and direct flame contact. It's measured in increments of radiant heat (expressed in kilowatts/m2). A BAL is the basis for establishing the requirements for construction (under the Australian Standard AS 3959-2009 Construction of Buildings in Bushfire Prone Areas), to improve protection of building elements from bushfire attack. Read More here (WA site)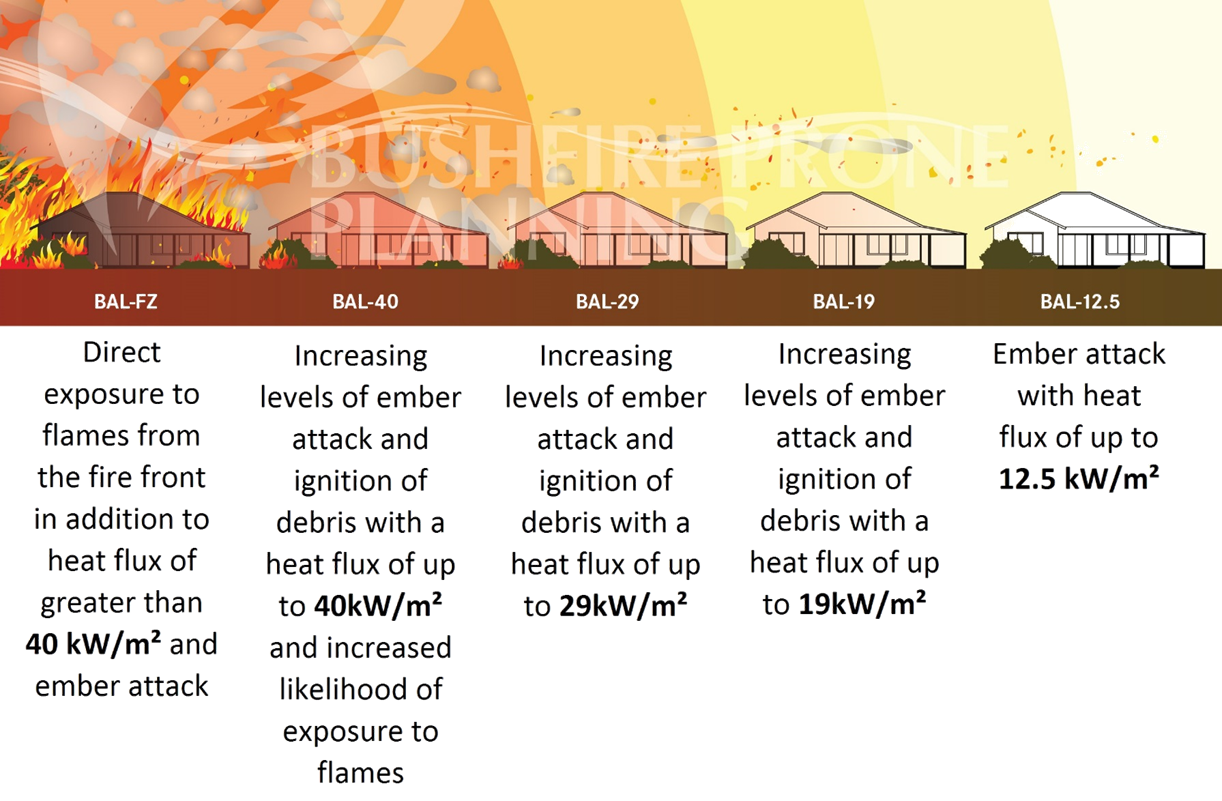 Out of control, contained, safe? Do you know what each bushfire status actually means
24 January 2020, The Conversation: In this record-breaking bushfire season, notifications from emergency managers have become a familiar feature of Australian life. Terms like "out of control" and "contained" are regularly heard as descriptions of the status of fires, but what do they actually mean? These terms vary slightly between Australian states and territory, but as similar firefighting strategies are used Australia-wide, the meanings are comparable. The status of a fire is a description of the stage of the firefighting effort, not the nature of the fire or its likelihood of being a threat. This means that to understand what actions to take when an active fire is nearby, it's important to follow the advice of your local fire and emergency information sources. Access full article here to test your knowledge
| | |
| --- | --- |
| Advice | A fire has started. There is no immediate danger. |
| Watch and act | There is a heightened level of threat. Conditions are changing and you need to start taking action now to protect yourself and your family. |
| Emergency warning | An Emergency Warning is the highest level of Bushfire Alert. You may be in danger and need to take action immediately. Any delays now puts your life at risk. |
Bushfire Facts and 12 Quick Tips – NSW Rural Fire Service
 NOTE: Similar tools mentioned in these quick tips are available from the CFA website for Victorians
Source: NSW Rural Fire Service
Preparing your plan
LINK IS NOT WORKING AT THE MOMENT – As soon as it is back the quizz will be reinstated. 
If you would prefer to be involved in a comprehensive bushfire safety program then the CFA's Fireguard Program might be what you are looking for. 
The program contains around eight hours of material (including group discussion and hands on activities) that can be covered in around four to six sessions.

CFA fire safety specialists work with your group to keep things on track and make sure all the important information is covered

Meetings are held in people's homes, at a time that's most convenient for the group — usually on weekends or in the evening.
Contact your CFA Region headquarters and ask for the Community Education Coordinator. Alternatively, text your name and location to 0429 423 692. A local coordinator will be in touch within a few days.
ACCESS CFA Bushfire Plan template here
CFA Defending Your Property: Some people, as part of their bushfire planning, will choose to stay and actively defend their property. Not everyone thinks clearly in an emergency. A written and well practised plan will help you remember what needs to be done during a fire. It will also help with the level of preparation required to give you the best chance of successfully defending. ACCESS Plan here
CFA Leaving Early Bushfire Survival Planning Template: Not everyone thinks clearly in an emergency. A written and well-practised plan will help you remember what needs to be done during a crisis. It also lists the preparations you will need to do to help you become fire ready. Your plan needs to outline:
¡ Actions leading up to the bushfire season
¡ Actions during the bushfire season
¡ Actions leading up to fire risk days
¡ Actions on fire risk days.
ALSO, CFA Your Guide to Property Preparation
A variety of further plan formats are provided below
Do you live with children and pets?
Source of above plans: Be Ready Warrandyte website
CFA Making Victoria Fire Ready: My Plan: In a bushfire or grassfire, people may be confused, disoriented and physically or psychologically stressed. In these conditions, making sound decisions becomes very difficult. A written and well-practised plan will help you remember what steps to take during a crisis
Other State Fire Services Planning Material
Other State fire services also provide a wide range of material to help their residents prepare themselves and their property for the bushfire season. All are saying much the same thing but present it in a variety of ways. You may find some of their material more appropriate for you. Remember you will need to make adjustments for different State services and locations.  
Access ACT Bushfire Survival Plan here: During a bush fire, firefighters will be working to stop the fire, but the size and intensity of a fire could mean that a fire truck may not be available to defend your home. It is your responsibility to reduce the risk to your family and your home and take actions to survive a bush fire.
Fact sheets: Find here  a wide variety of fact sheets, including fact sheets on bush fire safety, land management, communities at risk, tourism and recreation, home fire safety and farm fire safety. A variety of the fact sheets are available in languages other than English on the translated fact sheets page.
Access NSW RFS Bushfire Planning material here
A good plan:
is prepared well before the Fire Danger Season and reviewed each year

is written down, so that the details are to hand when you need them

has been practiced, so you know how it will go on the day

is created with the whole family and covers everyone, including the young and elderly

includes what to do:

before the Fire Danger Season

on a Total Fire Ban day

during a bushfire

after a bushfire

can adapt to unforeseen circumstances.
An excellent starting point is the "CFS SA Bushfire Survival Plan Checklist" which you can download from the link.
Bushfire belief busters: How much do you know about bushfires? Over the years, the CFS has heard many misconceptions about bushfires. These myths can be very worrying, as they put people in danger and further fuel the level of complacency. This page is all about busting those false beliefs and sorting out the facts from the fiction to help everyone stay safe.
Access SA CFS "Your Guide to Bushfire Safety" here: Bushfires can start suddenly and without warning. They destroy properties and lives every summer. It's not just the big fires like Black Saturday, Ash Wednesday and Wangary. Every year there are thousands of incidents and homes lost to bushfire. There is a real chance that you will experience a dangerous bushfire at some time in your life. While fires are inevitable, they are also survivable. You can increase the chances of survival for yourself, your loved ones, your home or business by taking simple steps to plan and prepare. The better prepared you are, the better your chances of survival.
Do you have a business or work in bushfire prone area? Bushfires can occur anywhere, at anytime in a regional or semi urban environment and there is no guarantee that the SA Country Fire Service (CFS) will be able to provide a fire appliance at every door. All businesses, organisations and people who work in or visit bushfire prone areas need to develop and implement their own Bushfire Safety policies, plans and procedures. CFS  – Bushfire safety for organisations and business
Do you holiday or visit in bushfire prone areas? Bushfires can occur without warning and can quickly impact your holiday location. If you are planning a holiday, you need to think about bushfire safety. CFS – Caravan & Camping Bushfire Safety 
Access their Bushfire Survival Planning web page here: An excellent resource to assist in decision-making to either to leave early or stay and defend.
Other guides that might be useful
CFA Prepare your garden – Landscaping for Bushfire: Garden Design and Plant Selection
The Plant Selection Key is a practical tool developed to guide you in choosing plants suitable for use in a garden in a high bushfire risk area. The key comprises a series of questions and information about plant characteristics and their relative flammability.
CFA Pets and bushfires – Whether pets are at home with you, relocated during high fire-risk days or brought along on holidays, you need to plan and prepare for their safety as well as your family's and your own.
Victorian Building Authority: A guide to retrofit your home for better protection from a bushfire: Building and renovation ideas to better prepare your home in a bushfire situation. Following the devastating bushfires of February 2009, many people who were not living in the affected areas or who suffered minor property damage are reassessing their preparedness.
Bushfire and Your Home: In a bush fire many houses are destroyed through ember attack, when burning twigs and leaves carried by the wind land on or around the house. Even houses away from the direct path of the fire can be affected. Look for the places embers could start fires – on the roof, under the floor and around windows and doors – and take action to prevent them. 

Illustrated guide: Defending your home against a bushfire Fire agencies recommend that you develop a bushfire survival plan. If you decide to stay and defend your home, there are some important things to consider. Access guide here
Checklist prepare to actively defend: You should have equipment to actively defend your home, protective clothing for all your family and a well prepared property. Access checklist here  
How to prepare your house for bushfire – home improvements: Anywhere embers can lodge or enter your house can start a fire. To reduce the impact of embers on your home there are some important building improvements that are recommended. Access guide here
Seeking a more comprehensive guide?
"The Complete Bushfire Safety Book" (2000) and the ready reference "Essential Bushfire Safety Tips"  (CSIRO 2012) written by Joan Webster, OAM, covers every aspect of protecting your family, your home, yourself and your animals from bushfire. "The Complete Bushfire Safety Book" has been acclaimed by bushfire authorities through Australia and many overseas as the most comprehensive and authoritative available. Its ground-breaking analysis of the stay-go dilemma following the catastrophic 1983 Ash Wednesday fires is still the most detailed."Essential Bushfire Safety Tip"s  (CSIRO 2012) has been endorsed by the CFA as: 'This is truly an outstanding achievement and a book that certainly could help save lives within the community.'  This book gives the benefits and dangers of every choice of action in every circumstance and

deals with the pitfalls of the drastic post 2009 changes to official safety policy.
 They can be previewed and/or obtained online.   Essential Bushfire Safety Tips  (CSIRO 2012) 
Community Organisations – Building Resilience
Resilient Community Organisations is a toolkit to support community service organisations (CSO) assess their preparedness and build resilience to disasters and emergencies.