How did we get into this mess!
When it comes to responding to climate change there appears to be an assumption that the way the world is "run" is a given and any doubt about how the world is "run", if whispered, is immediately dismissed. Yet, it IS this elephant in the room that IS the cause of our climate crisis and will continue to stymie any true resolution of the situation we are in until it is dealt with, if we don't, the outcome is obvious and unthinkable. There is however, a more sustainable way to "run" the world, one which promotes a STEADY STATE ECONOMY. However, before even starting that conversation there is a need to reform our parliamentary processes of the inherent corruption that comes from an environment that is open for exploitation by the powerful people that benefit the most from a "growth at all cost" economic system. There are ways to fix this, but it will be a hard road that must be travelled. This is something anyone can get involved in.
What is the Steady State Economy?
NOTE: A "Steady State Economy" and "degrowth" – what is the difference? Access article here
Reforming the parliamentary system
November 2020: "In every country, a strong system of public integrity and accountability is essential to meet the public's expectations of trustworthy, ethical and effective governance. Once an international leader, Australia's efforts to fight corruption, undue influence and protect the integrity of democracy have been slipping. Nationally – even when individual states or territories are showing the way – Australia is now failing to keep pace. A new federal integrity commission is a crucial step in creating a better and world leading system. Australia now has the opportunity to co-design a holistic, fit for purpose, interconnected system – one that the public and our multiple levels of government deserve, need, and expect. Australia's National Integrity System: The Blueprint for Action is the roadmap to this system." Produced by: Transparency International Australia & Griffith University. Access document here: AUSTRALIA'S NATIONAL INTEGRITY SYSTEM: THE BLUEPRINT FOR ACTION
There are two initiatives currently (October 2021) working towards bringing in the reforms necessary to make our parliamentary systems to clean up our politics and create the culture of integrity that Australians deserve from their political representatives:
Australian Federal Integrity Commission Bill 2020 which is being introduced by the Independent for Indy – Helen Haines. 
Helen introduced a bill into Parliament to create a strong and independent Federal Integrity Commission. This commission would have the power to root out corruption, expose lies and hold our politicians to account. This bill has wide support, but Scott Morrison has been dragging his feet. All that the government has done is provide, when pushed, a dud exposure draft which has been roundly rubbished by almost everyone. Helen's bill has the support of MPs from every party in the House. from the majority of people in the Parliament.
1 December 2020: The Australia Institute's National Integrity Committee of Former Judges have joined with Federal Parliamentarians from all sides of politics, the Australian Federal Police Association, academics, and civil society to call on the Attorney General to establish a federal integrity commission with teeth. The Attorney General's Commonwealth Integrity Commission (CIC) model which has been re-released for consultation is weak, ineffectual and unfit for purpose. It is the integrity commission one proposes when one does not want an integrity commission. Click on image to open video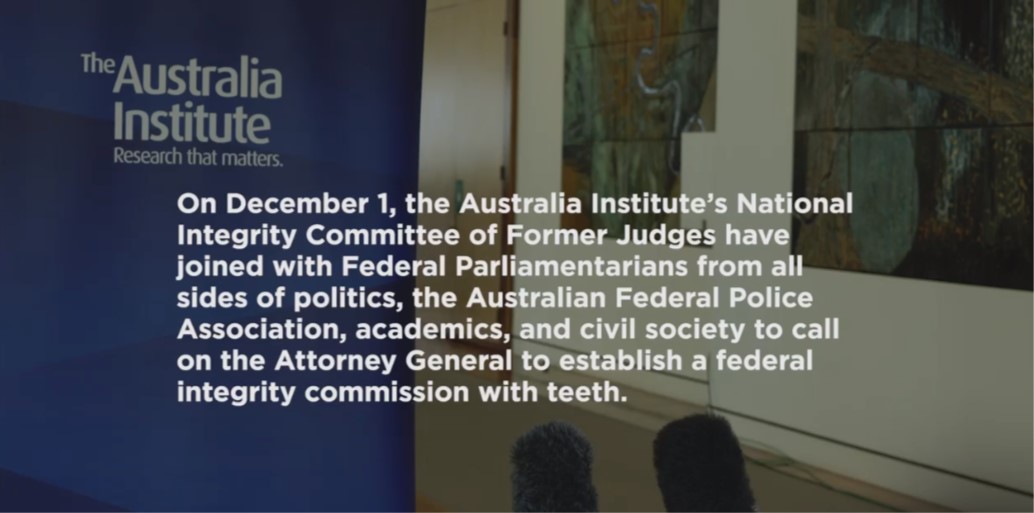 And what has the progress been for AFIC?
House of Representatives
Introduced and read a first time
26 Oct 2020
Second reading moved
26 Oct 2020
Bill | Explanatory Memorandum
DATE: 20 Oct 2021   CHAMBER: House of Representatives    STATUS: Before Senate    SPONSOR: HAINES, Helen, MP
OUTCOME: Government did not facilitate debate of the Bill in House of Reps
DATE: 20 Oct 2021   

CHAMBER: 

Senate    

STATUS: 

Before Senate    

SPONSOR: 

PATRICK, Sen Rex 
What needs to happen now?
Framework for a Fair Democracy
26 October 2021: Australian Democracy Network (ACF initiative)
About the Framework: Our vision is for a political system where our elected representatives reflect the values and concerns of our communities, decision making is balanced and fair, and people and the planet are at the heart of every decision. Unfortunately, this is often not the way Australian politics goes. Weak laws allow powerful industries and lobby groups to exploit democratic processes for their own financial gain. And, even when exposed, there are rarely consequences for corrupt and unethical behaviour. The Framework draws on international best practice to outline essential measures to reduce corporate influence and restore balance in our politics. It has been developed through significant consultation with leading experts, academics and organisations working on integrity issues, and is part of a growing campaign of people demanding greater integrity in our democracy.
 The Framework for a Fair Democracy outlines the reforms we need for a strong and fair democracy.
1. Stamp out corruption
Create a strong federal integrity commission
In a healthy democracy we should feel confident that our elected leaders represent the best interests of our communities — and that if they use their positions for personal gain, they will be investigated and held to account. Yet there is no federal agency with sufficient powers to investigate cases of alleged corruption.
We need a strong federal integrity body with broad powers to investigate allegations of corruption and ensure accountability when people do the wrong thing.
Introduce an enforceable code of conduct for politicians
Most people who hold positions of special responsibility in our society, like doctors, teachers and lawyers, must comply with ethical standards contained in professional codes of conduct. But when it comes to our politicians, we have no enforceable ethical standards with clear consequences for unacceptable behaviour.
We need a code of conduct for all federal politicians, to be overseen by an independent parliamentary scrutiny commissioner. The code should include proportionate penalties for those who do the wrong thing.
Strengthen the institutions that keep the federal government in check
Australian democracy relies on strong checks and balances, yet the institutions tasked with investigating wrongdoing are starved of the funding they need to hold the Australian government to account.
We need independent funding of integrity offices like the Australian National Audit Office and the Office of the Australian Information Commissioner.
Introduce a merit-based process for appointing government advisors
Too often, ministers stack independent advisory bodies with political allies and self-interested industry executives. This means the federal government is often not getting the best advice on what the community needs — but rather biased advice from people with vested interests.
We need a transparent, merit-based process for appointments to advisory boards and government task-forces to ensure decisions are made by the best minds in the country, not industry execs whose interests often conflict with the interests of our communities.
2. End cash for access
Make lobbying transparent
We have a right to know who is trying to influence politicians to make decisions that will maximise private profits, often at the expense of the public good. Powerful industries like gambling, tobacco and mining spend millions of dollars employing lobbyists to meet with politicians in secret.
We need ministers to publish their diaries, and all professional lobbyists to disclose who they've met with on a public register.
 Stop ministers moving into industry jobs
Too often, ministers responsible for overseeing the regulation of powerful industries leave federal parliament to take up high-paid jobs in the very industry they regulated. This raises serious concerns of favouritism – did the minister cut the company a deal in exchange for a highly paid job post politics?
We need a mandatory cooling off period for ministers and their staff, banning them from taking paid jobs within their portfolio for three years.
Ban corrupting political donations
Politicians rely on big donations to fund their election campaigns, and industries like fossil fuels, banking and gambling are happy to oblige. Big political donations buy access to politicians and can dissuade them from regulating harmful industries properly.
We need to ban large donations to politicians altogether.
Shine a light on secret donations
Voters have a right to know who is donating to our elected representatives in an attempt to buy influence. But because of our outdated and ineffective electoral laws, more than one billion dollars in undeclared income has gone to the major parties in the past two decades.
We need all political donations over $2,500 to be declared publicly, in real time.
3. Level the playing field in election debates
Stop corporations from spending millions on campaigning against regulation
When political donations aren't enough to get politicians to play ball, big industry has another tactic up its sleeve: threaten to spend millions campaigning against the politicians in the next election. This leaves our elected representatives wedged: even when they want to support policies that would put community wellbeing before profit, politicians are pressured not to.
We need a limit on how much anyone can spend on trying to influence the outcome of an election.
Limit political party spending on election ads
When elections take place on a level playing field, Australians benefit from robust discussion from diverse perspectives, and the candidates with the best ideas rise to the top. Too often though, it's not the quality of a candidate's ideas, but the size of their bank balance which determines how much air time they get, and their chance of success.
We need limits on the amount that candidates and political parties can spend on election campaigns, opening up more space for diverse voices.
Introduce standards of honesty in election campaigns
A democracy thrives on diversity of opinion. But when candidates and other campaigners deliberately lie to voters, they sow distrust in our democratic processes, and potentially in elections themselves.
We need to introduce penalties for politicians and other campaigners who clearly and deliberately mislead the Australian public in an effort to influence the election result.
Background Context: View "BIG DEAL" documentary on the lobbying inductry. Click on image to take you to ABC IVIEW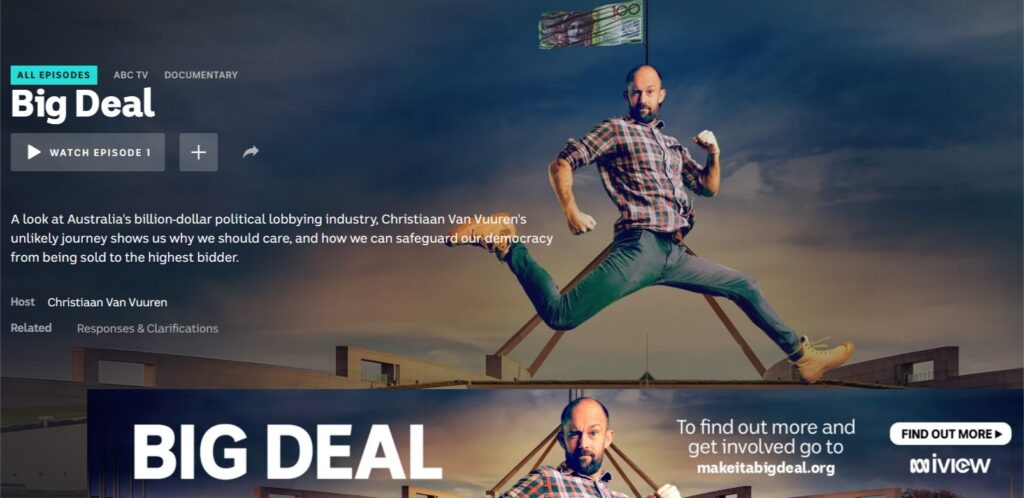 TO GET INVOLVED: Go to
Climate 200, Support for independents: "We level the playing field"
"We back local communities who want to ditch stale politicians and elect fresh independent voices instead.
Taking on major parties is hard. So at the upcoming federal election, we're raising funds to support up to a dozen underdog candidates who stand for cleaning up politics and following the science on climate change. Together, we can make it happen."
ACCESS CLIMATE 200 WEBSITE HERE
Keeping up to date with Federal politics with Annabel Crabb
"COP This! A Week of French Farce." Good morning, and welcome to the latest edition of This Is Why News Organisations Send Journos To Global Events Even Though It's Expensive. Since we last were in contact, Prime Minister Scott Morrison has attended the G20 in Rome and the climate summit in Glasgow, and the first thing to say is that neither of those engagements went as planned.
The second thing is a reminder that global diplomacy at the head of state level is basically just standard interpersonal drama with nicer chairs. And what really caused the last week to turn to custard for Scott Morrison was not the expected diplomatic wrangle over policy (Australia's continued attachment to bovine eructations and coal, in the face of global efforts to eliminate both) but the much more generic human horror that confronts any recently-separated person when The Ex turns up at a function to which you've both been invited. Mr Morrison's departure for Rome last Thursday was delayed by a call with jilted French President Emmanuel Macron (background of jilting is here). Awkward of course, but an important one to get out of the way. If you're unavoidably required to attend an event at which The Ex and The New Guy will both be present, it's absolutely crucial to get the remonstrations over with ahead of time and in private. Sensible. Read more here
LATEST DEVELOPMENTS
5 December 2021, Annabel Crabb, ABC:
Parliament has a shocking disconnect from the real world — especially when it comes to women's lives. Go home, 46th Parliament. You're drunk. Like the office bore at a Christmas party, the Australian Parliament spent its last fortnight bellowing on about itself, achieving nothing of note and generating eye-rolls from all and sundry. Is this a problem? After all, the Prime Minister has made it clear that he prefers "can-do capitalism" over "don't-do governments".  Perhaps a parliament that doesn't have a legislative response to climate change, that dodges the people's clamour for integrity measures, that commissions a damning review of the way it treats women, hears it, then shrugs and keeps doing it anyway, is the speed he's looking for. But for the rest of Australia, it's a spectacle which confirms the institution's shocking disconnect from real life. A parliament locked in a scrimmage of the abstract — culture wars, mutual accusations of mendacity, the abuse hurled across the chamber — while in the real world, Australians in a pandemic can't escape the literal truths of their lives. Read more here
26 November 2021, The Guardian:
Bridget Archer says she didn't want to meet PM immediately after crossing floor on integrity commission. Liberal backbencher Bridget Archer says she didn't want to be hauled into a meeting with Scott Morrison after she crossed the floor to support an independent MP's integrity commission bill. The prime minister has moved to quell internal revolts by talking to Archer on Thursday afternoon and separately referring the controversial religious discrimination bill to a joint committee. Morrison on Friday defended the "friendly" meeting with Archer after she supported a bid by Helen Haines to suspend standing orders to push for a stronger anti-corruption watchdog… But Archer told Guardian Australia that while the meeting was friendly, it was a "frank discussion – not just a pastoral care meeting". "I would have preferred not to have the meeting at that time while I was feeling emotional," she said. The meeting covered Archer's decision to exercise her right to cross the floor on an integrity commission and her views on religious discrimination. Archer was offered a pair for the final sitting week of parliament, which would have neutralised her ability to support motions like the one attempted by Haines, but she declined. READ MORE HERE
25 November 2021, The Conversation, Grattan on Friday: Assertive Liberal moderates give Scott Morrison curry.
The overwhelming impression the Morrison government has projected this week has been one of chaos, with revolts coming from the right and the left. And that's accurate. But, within the shambles, there has actually been one encouraging sign. We're seeing a new generation of Liberal moderates belatedly raise their voices. While it's one thing to get up on your hind legs in the party room, or even to make public statements, it is a big step to call out your government in parliament. It would have taken a lot for Bridget Archer, a moderate who holds the highly marginal Tasmanian seat of Bass, to make herself the story. Archer said outright what a number of her moderate colleagues were thinking, when she criticised the government for not bringing forward its legislation for an integrity commission. READ MORE HERE
18 November 2021, The Conversation: With a federal election looming, is there new hope for leadership on integrity and transparency?
 As we head into a federal election campaign next year, the focus on whether government – and which party – can be trusted to govern openly and honestly for the public good is looming larger than at any time in living memory. Plans to overhaul Commonwealth whistleblower protection laws were revealed last week by Assistant Attorney-General Amanda Stoker. The Coalition government's legislation for a federal integrity commission (or ICAC) is also imminent, following feedback on the extensive problems with its draft bill last year. And a plethora of other accountability issues are awaiting action. All these provide a reminder, heading into the election, that trust in government hinges not only on "performance" in a direct, hip-pocket sense. It also depends on who can be trusted to protect public decision-making from becoming a self-serving gravy train for leaders and their friends. Healthy political competition on integrity issues is long overdue. Historically, both major parties have been slow to initiate the reforms needed to reverse Australia's slide on Transparency International's Corruption Perceptions Index or global press freedom rankings. READ MORE HERE
A wrap-up of the last two sitting weeks in Federal politics by ABC journo's