This site is a research tool that has been specifically created for the community of the Ballarat region in Victoria, Australia. It is designed for individuals that "get it" and are looking for quick access to the latest and most reliable material available on the many interrelated issues of climate change to assist them to respond effectively in their own area of influence. It cuts through the dross to assist in good decision making and to facilitate action at the local level. PLEA Network Coordinator, Hazen (About Us) 
 💡 To get the best value out of this site, open and read this first 💡

 

This site acts as a filter and pointer for individuals looking for specific climate change information/ resources. It is an entry point to the most active players in the global climate change arena. It is NOT a blog and you will find no mention of how to change a light bulb, make compost or insulate your house.

I would suggest when first visiting this site you spend some time looking over the pages to see what sort of information is provided.There are: overviews; videos; latest news; articles; interactive maps; reports and a vast number of links to external sites. It is a continuing work in progress as new sites and information are found and the space of climate change evolves. Sources of all material can be accessed through the provided links to reports; articles and the "Read More here" links at the bottom of most articles. 

I have tried to make the navigation as logical and friendly as possible:  there are a number of sub pages under the main pages; at the top of each page there is a "What you will find on this page" which details the sub headings and are jump links to the content; when clicking on an image it will either enlarge or go to an external link; the symbols ∨/∧ indicate "show & hide" text; text in blue indicates a link to further information; external links will open in a new tab; internal links and pdfs will open in the same page – remember to go back instead of closing page; and there is also a handy back to top button. To keep things tidy, posts will either become part of the static text or be archived as posts. The "archive library" provides a variety of ways to search for older posts. Home page also has a section – "Highlights recently added..."

Once you have a good idea of what is on offer, home in on your issue/topic of interest. Revisit when you need to update info/resources to assist in any initiative you may be involved in – and go forth and multiply! When returning for updates check: date when I have last updated site (on right-hand side); main pages of interest (or search the "site topics index") to see if there has been any new material added; latest news; and older posts through the "category" and "tag" options on the "archive library" page.  Many of the a/v inserts/articles are offered on a "free share" basis. If you think something would be useful for presentations, etc please go to the source to obtain a copy. 

💡 A final value tip: To turn information into knowledge try reading rather than just scanning. Turning that knowledge into understanding and action is up to you.

As this site is a continuing work in progress – check in occasionally to see updates.
Our climate crisis comes from our relentless addiction to growth (read consumption) – it must stop
What you will find on this page: LATEST NEWS; HIGHLIGHTS RECENTLY ADDED; no explanation required (video); David Karoly speaks out; Net Zero by 2050, need to cut consumption; 1.5C looms; a different take on "overshoot"; 2021 6th warmest year (video); How Oz government fudges the figures; the hype of "Net Zero 2050"; State of the Climate Global 2020; State of the Climate Report (AUST) 2020 (video); Insurance: mice, floods and the climate crisis; REPORT: Climate Reality Check 2020; Big lie and shonky carbon credits: Front Line – Australia's climate emergency (video); Oz biggest coal exporter in the world (report); Carbon Brief Profile: Australia; Preparing for the Era of Disasters (report); attribution mapping of extreme weather (interactive map);  2018 was the fourth warmest since 1880(temp trend visualisation); understanding our heatwave weather;  need to change the frame for decision makers; 400 years to transform energy systems (graph); 2017 extends period of exceptional warm years;  cost of natural disasters & resilience (report); REMEMBER: it is all in the language;  Clarke & Dawe on the energy debate (video);  global 2C warming limit not feasible; climate action time warp (video); Kiwis vs Oz (video); dumbest policy on earth; Solar SmackDown – Poms vs Oz (video); perspective in the debate (video): dangerous climate warming myth – reality; Australia in 2040; want to be counted (video);discouraged by scale;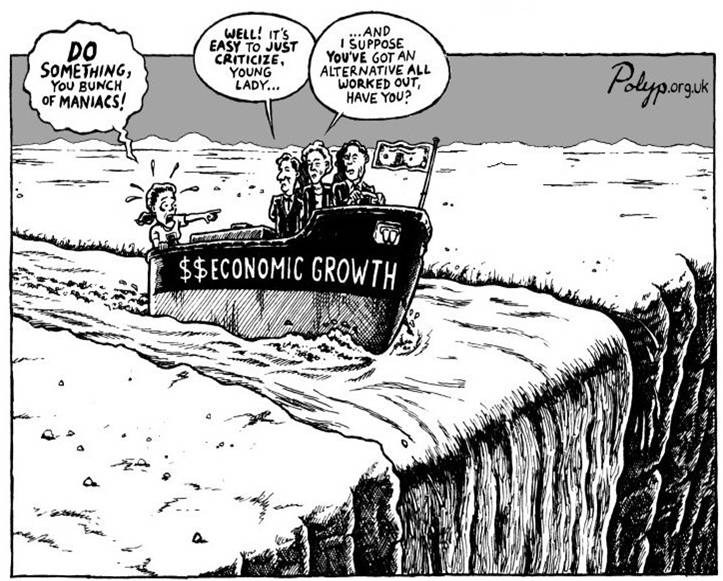 SOME HIGHLIGHTS RECENTLY ADDED TO SITE: 
Groundhog day revisited! If you regularly visit my site you may have noticed I do not post as much as in the past. I have found that the vast majority of "news" is just a repetition of what has been going on for decades. It is all too much talk and not enough action – same old same old – only our changing climate relentlessly continues on an upward trajectory. I will however continue to add the most interesting developments as time permits 
Latest News
No explanation required!

Mick Wallace, Member of the European Parliament for Ireland – takes an Irishman to call out the Emperor! But notice the empty stalls.
Professor David Karoly speaks out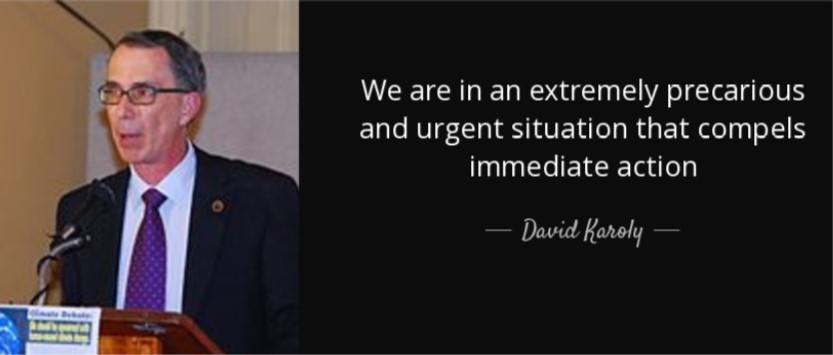 2 May 2022, The Guardian: CSIRO has become 'extravagant consulting company', one of its former top climate scientists says. A leading Australian climate scientist says the national science agency, CSIRO, has been turned into a "very extravagant consulting company" under the Coalition, with its scientists barred from speaking publicly about government policy. The warning from Prof David Karoly follows his retirement from the Commonwealth Scientific and Industrial Research Organisation in February after more than 40 years as one of the most respected voices in climate science. Karoly, who worked on four of the six major assessments by the Intergovernmental Panel on Climate Change, returned to CSIRO in 2018. He agreed to head its Earth Systems and Climate Change Hub in the wake of the chief executive, Larry Marshall, making deep cuts to the organisation's climate science capacity on the grounds the problem was "proven". That push was partially reversed after public and political pressure, with Marshall later acknowledging it had been a mistake. Karoly signed on to help build a new program. Read more here. 

Professor David Karoly on the Liberal-National Government History of climate inaction. A decade ago, the Labor Government had clear plans and legislation to address climate change. Australia joined the global community that recognised much stronger climate action was needed to avoid the unmanageable and to manage the unavoidable. In 2012, the Labor Government established an emissions trading scheme as part of its Clean Energy Future legislation, created the Clean Energy Finance Corporation to support new large-scale renewable energy projects and established the Climate Change Authority to provide independent advice to the government on Australian climate change policy and emission reduction targets. I joined the Climate Change Authority as one of its inaugural members and the only climate scientist…When Australia elected a Liberal-National Government in 2013, much of this changed. The Climate Council's new report documents the decisions by this government and their profound impacts; the changes in legislation, the missed opportunities, the closure of programs, the misinformation and the self-censorship by government-funded organisations, as well as the increasing climate impacts that are harming Australians and our communities, businesses, ecosystems, and the places we love. One of the first actions of the Liberal-National Government was to close the Climate Commission and restrict the provision of reliable information on climate change to the Australian public. When the Climate Commission was closed, it was instantly replaced by the new, independent and community-funded Climate Council, with the objective of continuing to keep the public informed. Read more here.

The above extract originally appeared as the foreword to the Climate Council's  report, 'The lost years: Counting the costs of climate inaction in Australia'.
Net zero by 2050 will hit a major timing problem technology can't solve. We need to talk about cutting consumption – it's about time!
28 April 2022, The Conversation: Many climate activists, scientists, engineers and politicians are trying to reassure us the climate crisis can be solved rapidly without any changes to lifestyle, society or the economy. To make the vast scale of change palatable, advocates suggest all we have to do is switch fossil fuels for renewable power, electric vehicles and energy efficiency technologies, add seaweed to livestock feed to cut methane and embrace green hydrogen for heavy industries such as steel-making. There's just one problem: time. We're on a very tight timeline to halve emissions within eight years and hit net zero by 2050. While renewables are making major inroads, the world's overall primary energy use keeps rising. That means renewables are chasing a retreating target. My new research shows if the world's energy consumption grows at the pre-COVID rate, technological change alone will not be enough to halve global CO₂ emissions by 2030. We will have to cut energy consumption 50-75% by 2050 while accelerating the renewable build. And that means lifestyle change driven by social policies. Read more here
As 1.5C overshoot looms, a high-level commission will ask: what next?
22 April 2022, Climate Home News: The chances of keeping global temperature rise below 1.5C, the toughest goal of the Paris Agreement, are increasingly slim. "Well below 2C" is a stretch. Yet there has been little discussion at an international level on how to handle "overshoot" of those goals. A high-powered commission due to launch in May aims to break the silence. Climate diplomats are finalising a 15-strong lineup of former presidents, ministers and representatives of international organisations to explore options for deep adaptation, carbon dioxide removal (CDR) and geoengineering, Climate Home News can reveal. The Climate Overshoot Commission will address sensitive questions around the ethics and feasibility of potential ways to reverse warming that are problematic or unproven at large scale. Read more here.
A different take on "overshoot"
"Our core ecological problem is not climate change. It is OVERSHOOT, of which global warming is a symptom." Richard Heinberg
2021 Tied for 6th Warmest Year in Continued Trend, NASA Analysis Shows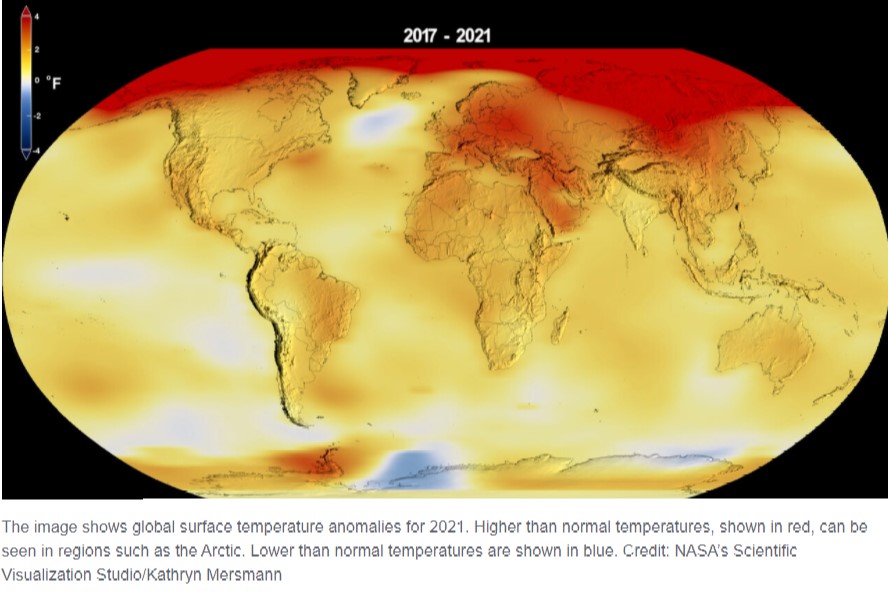 13 January 2022, NASA: Earth's global average surface temperature in 2021 tied with 2018 as the sixth warmest on record, according to independent analyses done by NASA and the National Oceanic and Atmospheric Administration (NOAA). Continuing the planet's long-term warming trend, global temperatures in 2021 were 1.5 degrees Fahrenheit (0.85 degrees Celsius) above the average for NASA's baseline period, according to scientists at NASA's Goddard Institute for Space Studies (GISS) in New York. NASA uses the period from 1951-1980 as a baseline to see how global temperature changes over time. Collectively, the past eight years are the warmest years since modern recordkeeping began in 1880. This annual temperature data makes up the global temperature record – which tells scientists the planet is warming. According to NASA's temperature record, Earth in 2021 was about 1.9 degrees Fahrenheit (or about 1.1 degrees Celsius) warmer than the late 19th century average, the start of the industrial revolution. Read more here. Watch the video below to "get it"!

 

How Oz government fudges the figures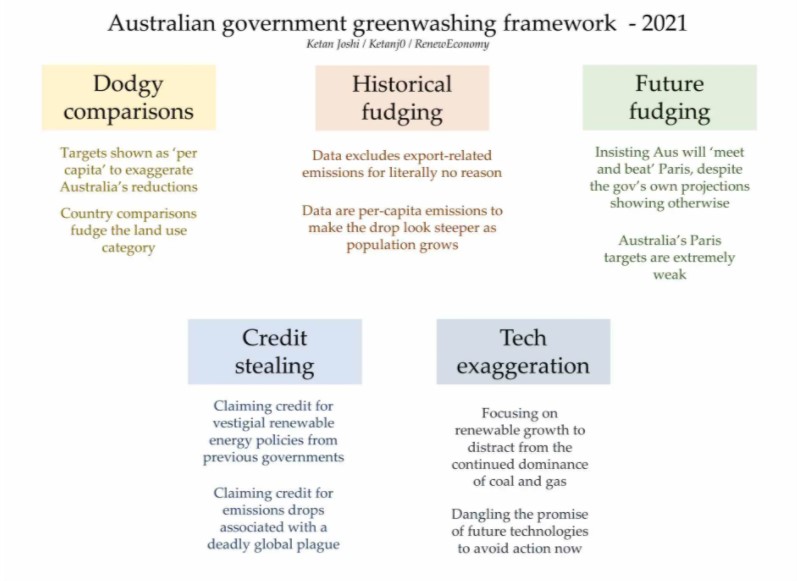 Source: Renew Economy

This is why the hype of "NET ZERO 2050" is but smoke and mirrors!

SUMMARY: "Net Zero 2050" a dangerous illusion: 
"Net zero 2050" emissions (NZ2050) is not just a goal, but a strategy for COP26 to lock in many decades of unnecessary fossil fuels use well past 2050, with an unsustainable, business-and growth-as-usual economic pathway, dangerous "offset" trade-offs, and unacceptable risks of unstoppable climate warming.
NZ2050 scenarios being promoted by the world's central bankers have up to 50% of primary energy use coming from fossil fuels in 2050, "offset" by use of unreliable carbon accounting and land-based measures — including bio-energy — which impinge upon and may decrease land for cropping even as demand for food increases by half over the next 30 years This agenda is supported by the fossil fuel industry and by "climate activist" investor groups..
Long-term targets are an excuse for procrastination. The short-term matters most. Emergency action to cool and protect the most vulnerable climate and ecosystems is vital. Failure to do so right now may make long-term targets irrelevant if cascades of system-level biophysical changes are triggered.
At the present level of warming of 1.2°C, climate change is already dangerous, with some system-level tipping points already crossed and others dangerously close. A return to the safe climate conditions of the Holocene requires rapid decarbonisation and drawing down atmospheric carbon dioxide to more stable levels. The policy aim must be "a big minus" in emissions, not "net zero" emissions.
Saying NZ2050 is "the best we can do" is caving into an unsustainable and dangerous future, and giving up on protecting major Earth systems and ecologies. The NZ2050 scenarios will not save the world's coral reefs, nor stop rapid and devastating Arctic change nor prevent the inundation of low-lying small island states, or the triggering of societal collapse in parts of the world. "
Access here full Briefing Note

Source: BreakThrough – National Centre for Climate Restoration
State of the climate – GLOBAL: 2020 ties as warmest year on record
14 January 2021, Carbon Brief: With all the official climate data now in, the world's surface temperatures in 2020 have been confirmed as effectively tied with 2016 as the warmest year on record. In this article, Carbon Brief explains why the year proved to be so remarkable across the planet's oceans, atmosphere, cryosphere and surface. Access full report here

Last year set a number of records for the Earth's climate:
State of the Climate (AUST) 2020 – BOM/CSIRO report
The Bureau of Meteorology and CSIRO play an important role in monitoring, analysing and communicating observed and future changes in Australia's climate. This sixth biennial State of the Climate report draws on the latest climate research, encompassing observations, analyses and projections to describe year-to-year variability and longer-term changes in Australia's climate. The report is a synthesis of the science informing our understanding of climate in Australia and includes new information about Australia's climate of the past, present and future. The science informs a range of economic, environmental and social decision-making by governments, industries and communities. Access full report here.

Key points – Australia
Australia's climate has warmed on average by 1.44 ± 0.24 °C since national records began in 1910, leading to an increase in the frequency of extreme heat events.
There has been a decline of around 16 per cent in April to October rainfall in the southwest of Australia since 1970. Across the same region May–July rainfall has seen the largest decrease, by around 20 per cent since 1970.
In the southeast of Australia there has been a decline of around 12 per cent in April to October rainfall since the late 1990s.
There has been a decrease in streamflow at the majority of streamflow gauges across southern Australia since 1975.
Rainfall and streamflow have increased across parts of northern Australia since the 1970s.
There has been an increase in extreme fire weather, and in the length of the fire season, across large parts of the country since the 1950s, especially in southern Australia.
Anomalies in annual mean sea surface temperature, and temperature over land, in the Australian region. Anomalies are the departures from the 1961–1990 standard averaging period. Sea surface temperature values (data source: ERSST v5, www.esrl.noaa.gov/psd/) are provided for a region around Australia (4–46 °S and 94–174 °E).
There has been a decrease in the number of tropical cyclones observed in the Australian region since 1982.
Oceans around Australia are acidifying and have warmed by around 1 °C since 1910, contributing to longer and more frequent marine heatwaves.
Sea levels are rising around Australia, including more frequent extremes, that are increasing the risk of inundation and damage to coastal infrastructure and communities.
Mice, floods and the climate crisis: why your insurance won't cover society-wide catastrophes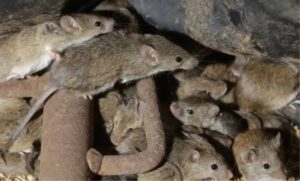 9 June 2021, The Guardian: The best way to keep premiums down is to prevent climate change and the disasters it causes. No matter how much you pay for your home or car insurance, if your property is damaged by mouse plague, nuclear radiation, war or rising sea levels you are almost certainly on your own. If you're lucky, your insurance might cover you against storms but maybe not against floods (you know the difference, right?). Likewise, your insurance almost certainly doesn't cover you against storm surges or a dam bursting. Australians spend more than $10bn for non-life insurance products each year, even though there's only a one in 500 chance your house will catch fire. That's why there's so much profit to be made in insurance. If a forecaster says something's likely to happen, then it's highly unlikely you'll be able to get insurance against it. While insurance companies make their profit out of our fear of an individual catastrophe, they would lose their entire business if they insured against society-wide catastrophe. We take it for granted that insurance companies will pay out if an accident hits our car or house but most people rarely think about what will happen if catastrophe hits us all at once. Which is why the small print on insurance premiums is so small. While you can still get cyclone insurance in northern Australia, the prices are rising rapidly as global temperatures rise and tropical cyclone intensity increases. In response, the Morrison government announced a $10bn "reinsurance pool" to help lower insurance premiums for northern Australians. But not even the insurance industry thinks that will work.  Read more here

Get the latest Vital Signs of the Planet
Carbon Dioxide
Global Temperature
Arctic Sea Ice
Ice Sheets
Sea Level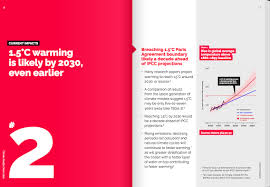 13 October 2020: Breakthrough's latest publication, 
Climate Reality Check 2020 draws together current climate science research to present 20 critical understandings, observations and insights to help inform and guide the stark choices  that now stand before us. Climate Reality Check 2020 is a resource designed to help climate practitioners, advocates, journalists, business leaders and policymakers better understand the alarming mismatch between the current climate risks and the considerably inadequate level of climate action.

Latest Report Card for Australia

30 March 2020: The Conversation, A major scorecard gives the health of Australia's environment less than 1 out of 10. 2019 was the year Australians confronted the fact that a healthy environment is more than just a pretty waterfall in a national park; a nice extra we can do without. We do not survive without air to breathe, water to drink, soil to grow food and weather we can cope with. Every year, we collate a vast number of measurements on the state of our environment: weather, oceans, fire, water, soils, vegetation, population pressure, and biodiversity. The data is collected in many different ways: by satellites, field stations, surveys and so on. We process this data into several indicators of environmental health at both national and regional levels. The report for 2019, released today, makes for grim reading. It reveals the worst environmental conditions in many decades, perhaps centuries, and confirms the devastating damage global warming and mismanagement are wreaking on our natural resources. Immediate action is needed to put Australia's environment on a course to recovery. Read more here.

And how did Ballarat do? The overall environmental score (out of 10) was 4.1, down from 4.5 in 2018.
Ballarat Score Card 2019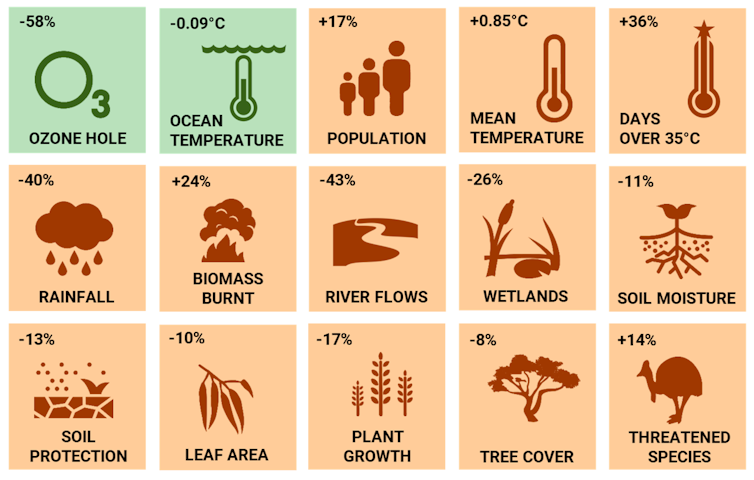 Global Transport of Australian Bushfire Smoke

January 21, 2020, NASA's Goddard Space Flight Center, This animation shows several high impact events across the globe between August 2019 and January 2020, including Hurricane Dorian (August to September 2019), major fire events in South America and Indonesia (August to September 2019), and extreme wildfires in Australia (December 2019 to January 2020). The local impacts of the Australian bushfires have been devastating to property and life in the country, while producing extreme air quality impacts throughout the region. As smoke from the massive fires has interacted with global weather, the transport of smoke plumes around the globe has accelerated into the upper troposphere and even the lowermost stratosphere, leading to long-range transport around the globe. The smoke from these bushfires will travel across the Southern Ocean, completing a global circumnavigation back around to Australia, and is particularly pronounced across the southern Pacific Ocean out to South America.

On January 15, 2020, NOAA released its recap of 2019 climate conditions. 2019 was second-warmest year on record.

The globally averaged temperature departure from average over land and ocean surfaces for 2019 was the second highest since record keeping began in 1880, according to NOAA scientists. December's combined global land and ocean surface temperature departure from average for 2019 was also second highest in the 140-year record. This summary from NOAA National Centers for Environmental Information is part of the suite of climate services NOAA provides to government, business, academia and the public to support informed decision-making. Read more here

20 January 2020, Carbon Brief: All of the official climate data for 2019 is now in. In this article, Carbon Brief explains why last year proved to be so remarkable across the planet's oceans, atmosphere, cryosphere and surface temperature.

A number of records for the Earth's climate were set in 2019:
It was the second or third warmest year on record for surface temperature – depending on the dataset used – and the warmest year without a major El Niño event. Temperatures in the lower troposphere were also either the second or third warmest.
It was the warmest year on record for ocean heat content, which increased markedly between 2018 and 2019.
It saw record lows in sea ice extent and volume in the Arctic and Antarctic for much of the period between April and August. The minimum Arctic sea ice extent reached in September tied for the second lowest on record.
Global sea levels and atmospheric greenhouse gas concentrations reached new record highs in 2019, while the world's glaciers continued to melt.
9 January 2020, BoM Annual climate statement 2019: Australia's warmest year on record; marked by severe, protracted drought

2019 was Australia's warmest year on record. Australia's area-averaged mean temperature for 2019 was 1.52 °C above the 1961–1990 average, well above the old record: +1.33 °C in 2013. Mean maximum temperatures were the warmest on record at 2.09 °C above average, also well above the previous record, which was +1.59 °C in 2013. Mean minimum temperatures were 0.95 °C above average, the sixth-warmest on record. The national temperature dataset commences in 1910. Read more here

How long will it take for the "quiet" Australian's to see the Emperor has no clothes? How long before the big lie is called what it is?

25 November 2019, The Guardian. Scott Morrison and the big lie about climate change: does he think we're that stupid? Of all the horrors that might befall the burnt-out, the flooded, the cyclone-ravaged and the drought-stricken Australian this summer, perhaps none could be viewed with more dread than turning from their devastated home to see advancing on them a bubble of media in which enwombed is our prime minister, Scott Morrison, arriving, as ever, too late with a cuddle….

In Australia we are all now being treated as children, quietened Australians, most especially on the climate crisis. While the climate crisis has become Australians' number one concern, both major parties play determinedly deaf and dumb on the issue while action and protest about the climate crisis is increasingly subject to prosecution and heavy sentencing….

 In this regard, the climate crisis is a war between the voice of coal and the voice of the people. And that war is in Australia being won hands down by the fossil fuel industry. Which brings us back to that industry's number one salesman, the prime minister, standing there in the ash in the manner of Humphrey B Bear on MDMA, as, mollied up, he pulls another victim in the early stages of PTSD into his shirt, his odour, his aura – such as it is – and holds them there perhaps just a little too long. Sometimes, at his most perplexing, he lets that overly large head loll on the victim's shoulder and leaves it there. Prayers and thoughts naturally follow….

All this theatre hides a deeply cynical calculation: that Australians will keep on buying the big lie, a lie given historic expression last Thursday morning when on national radio the prime minister declared that Australia's unprecedented bushfires were unconnected to climate change…. 
And on this day, when Sydney was blanketed in bushfire smoke, when much of Victoria was declared code red, fires were burning out of control in South Australia, and "climate emergency" was declared word of the year by Oxford Dictionaries, Morrison said that "to suggest that at just 1.3% of emissions, that Australia doing something more or less would change the fire outcome this season – I don't think that stands up to any credible scientific evidence at all". 

This is an argument entirely in bad faith. Two days before saw the release of a major UN report that forecast Australia to be the sixth-largest producer of fossil fuels by 2030. Between 2005 and 2030 Australia's extraction-based emissions from fossil fuel production will have increased by 95%. By 2040, according to the report, on current projections the world's annual carbon emissions will be 41 gigatonnes, four times more than the maximum amount of 10 gigatonnes required to keep global heating below 1.5C. Read more here

Oz Govt playing with dodgy accounting to achieve its target, can they be stopped?

17 December 2019, Renew Economy, Why the battle over 'Kyoto carryover' is such a big deal for the climate? As delegates from the COP25 UN climate talks make their way home, many will be considering how it could be possible to resolve one of the core sticking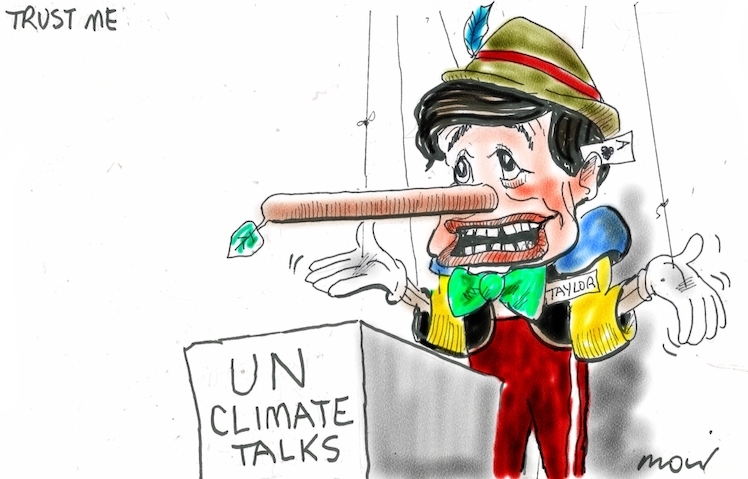 points for negotiators could be resolved in time for the next round of talks in Glasgow. Much of the battles between negotiators in Madrid focused on the issue of surplus emissions permits leftover from the Kyoto protocol. As the global climate governance is set to transition from the constrained Kyoto Protocol into the all encompassing Paris Agreement, a small group of countries, including Australia, China, India the United States and Brazil, fought to protect their favourable position, created under the Kyoto Protocol through soft targets and convenient accounting loopholes. Australia neither succeeded in securing agreement at the UN talks to allow for surplus Kyoto-era units to be carried over into the Paris Agreement nor was Australia prevented from doing so. In failing to reach an agreement in Madrid, negotiators will reconsider the issue at the next round of talks to be held in Glasgow in late 2020. The level of attention given to the issue, and the resulting frustration expressed by negotiators on both sides, reflects the scale of emissions reductions that could be put as risk if countries conceded to the demands that surplus Kyoto units be carried over into the Paris Agreement. Read more here

For more background as to how all this came about read on… Kyoto Credits: as Australia cooks, the Coalition cooks the books

World scientists' warning of climate emergency

5 November 2019, BioScience Journal: Scientists have a moral obligation to clearly warn humanity of any catastrophic threat and to "tell it like it is." On the basis of this obligation and the graphical indicators presented below, we declare, with more than 11,000 scientist signatories from around the world, clearly and unequivocally that planet Earth is facing a climate emergency. Most public discussions on climate change are based on global surface temperature only, an inadequate measure to capture the breadth of human activities and the real dangers stemming from a warming planet (Briggs et al. 2015). Policymakers and the public now urgently need access to a set of indicators that convey the effects of human activities on GHG emissions and the consequent impacts on climate, our environment, and society….

To secure a sustainable future, we must change how we live, in ways that improve the vital signs summarized by our graphs. Economic and population growth are among the most important drivers of increases in CO2 emissions from fossil fuel combustion (Pachauri et al. READ MORE HERE

Professor Ross Garnaut offers another solution for Australia's dilemna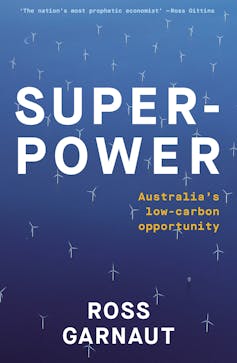 6 November 2019, The Conversation. Australia could fall apart under climate change. But there's a way to avoid it. Professor Ross Garnaut: Four years ago in December 2015, every member of the United Nations met in Paris and agreed to hold global temperature increases to 2°C, and as close as possible to 1.5°C. The bad news is that four years on the best that we can hope for is holding global increases to around 1.75°C. We can only do that if the world moves decisively towards zero net emissions by the middle of the century. A failure to act here, accompanied by similar paralysis in other countries, would see our grandchildren living with temperature increases of around 4°C this century, and more beyond. I have spent my life on the positive end of discussion of Australian domestic and international policy questions. But if effective global action on climate change fails, I fear the challenge would be beyond contemporary Australia. I fear that things would fall apart. There is reason to hope. It's not all bad news. What we know today about the effect of increased concentrations of greenhouse gases broadly confirms the conclusions I drew from available research in previous climate change reviews in 2008 and 2011. I conducted these for, respectively, state and Commonwealth governments, and a federal cross-parliamentary committee. But these reviews greatly overestimated the cost of meeting ambitious reduction targets. READ MORE HERE

BREAKTHROUGH: Never before have we faced the level of threat that now confronts us. We stand on the edge of major ecological and social tipping points that could manifest in the coming decades. Demands for appropriate risk management and immediate action at emergency speed are now coming from some unexpected quarters.To protect human populations, environmental systems and to avoid further tipping points we are now told that it will be necessary to act as fast as humanly possible to lower the earth's temperature to within a safe climate range. HOME FRONT documents the existential threat of climate change from a uniquely Australian economic and national security perspective. EPISODE ONE – EXISTENTIAL GAMBLE – Click on image to open video
UNDERSTANDING CLIMATE EMERGENCY & LOCAL GOVERNMENT: Is climate an emergency, what does emergency mode look like, and what is the role of local government councils? This 8-page guide looks at an "all hands on deck" response to existential climate risks. Access Breakthrough reports here, guides here, papers here

Climate State: If you need quick access to a range of videos on climate change matters access the Climate Science website. CLIMATE STATE features many feature films on important current climate science related topics, and often includes narrations by our staff.  Access video list here

Why Fed Govt needs to come clean about Australia's emission impact – a picture paints a thousand words…there is NO moral ground 
19 August 2019: AUSTRALIA INSTITUTE LATEST REPORT: The analysis, which compares emissions from burning fossil fuels mined and exported, also finds:
Australia is the world's third largest fossil fuel exporter, making up 7% of all fossil fuel exports, behind only Russia and Saudi Arabia.

Australia is the largest fossil fuel exporter in the OECD, making up 20% of the total.
Australia's fossil fuel exports are almost three-quarters (74%) the size of all exports from all EU countries combined, and more than double any individual EU country. Australia's fossil fuel production is one and a half times the size of all EU countries' production combined.
Australia's fossil fuel exports are higher than those from Indonesia, Canada, Iraq, United Arab Emirates, or Qatar, and nearly four times larger than those from Venezuela or Colombia.

In absolute terms, Australia is the fifth biggest miner of fossil fuel carbon, behind only China, the USA, Russia and Saudi Arabia, and ten times the world average per capita.

Australia mines more fossil fuel carbon than Indonesia, India, Canada, Iran and Iraq.

Australia's domestic greenhouse gas emissions are higher than 40 countries that have larger populations than Australia, putting Australia at 14th globally.

Per capita, Australia's emissions are the highest in the OECD, and globally behind only smaller petro-states such Qatar.
Carbon Brief Profile: Australia

April 2019, Carbon Brief: In the seventh article of a series on how key emitters are responding to climate change, Carbon Brief looks at Australia's complex climate politics and rising fossil fuel exports. Climate change is a top tier political issue in Australia. Debates over climate and energy policy have triggered several of the numerous changes of prime minister in recent years. Australia had the world's 15th largest greenhouse gas emissions in 2015 and its citizens' per-capita contribution is around three times the global average. It is the world's second largest coal exporter and recently became the top exporter of liquified natural gas (LNG). Its electricity system remains heavily reliant on coal, despite ramping up the use of gas and renewables, especially rooftop solar. It is also highly vulnerable to the effects of climate change, including extreme heat, drought, bushfires and agricultural impacts. Based on its current trajectory, Australia is off track on its international pledge to cut emissions 26-28% by 2030 compared to 2005 levels. Access full analysis here
Australia needs a national plan to face the growing threat of climate disasters

8 March 2019, Conversation: We are entering a new era in the security of Australia, not because of terrorism, the rise of China, or even the cybersecurity threat, but because of climate change. If the world warms beyond 2℃, as seems increasingly likely, an era of disasters will be upon us, with profound implications for how we organise ourselves to protect Australian lives, property and economic interests, and our way of life. The early warning of this era is arriving almost daily, in news reports from across the globe of record-breaking heatwaves, prolonged droughts, massive bushfires, torrential flooding, and record-setting storms. In a new special report from the Australian Strategic Policy Institute, I argue that Australia is not facing up to the pace of these worsening threats. We need a national strategy to deal specifically with climate disaster preparedness. Read more here

Attributing extreme weather to climate change 

6 July 2017, Carbon Brief: In the early 2000s, a new field of climate science research emerged that began to explore the human fingerprint on extreme weather, such as floods, heatwaves, droughts and storms. Known as "extreme event attribution", the field has gained momentum, not only in the science world, but also in the media and public imagination because of the power it has to link the seemingly abstract concept of climate change with our own tangible experiences of the weather. Scientists have published more than 230 peer-reviewed studies looking at weather events around the world, from Hurricane Katrina to Russia's 2010 heatwave. The result is mounting evidence that human activity is raising the risk of some types of extreme weather, especially those linked to heat. Carbon Brief's analysis suggests 68% of all extreme weather events studied to date were made more likely or more severe by human-caused climate change. Heatwaves account for 43% such events, droughts make up 17% and heavy rainfall or floods account for 16%. Read more here

2018 fourth warmest year in continued warming trend, according to NASA, NOAA

6 February 2019, Global Climate Change (NASA): Earth's global surface temperature in 2018 was the fourth warmest since 1880, according to independent analyses by NASA and the National Oceanic and Atmospheric Administration (NOAA). Global temperatures in 2018 were 1.5 degrees Fahrenheit (0.83 degrees Celsius) warmer than the 1951 to 1980 mean, according to scientists at NASA's Goddard Institute for Space Studies (GISS) in New York. Globally, 2018's temperatures rank behind those of 2016, 2017 and 2015. The past five years are, collectively, the warmest years in the modern record. "2018 is yet again an extremely warm year on top of a long-term global warming trend," said GISS Director Gavin Schmidt.


Gavin Schmidt provides some clarity on – The best case for worst case scenarios: Scientists have been looking at best, middling and worst case scenarios for anthropogenic climate change for decades. For instance, Stephen Schneider himself took a turn back in 2009. And others have postulated both far more rosy and far more catastrophic possibilities as well (with somewhat variable evidentiary bases)….. However, I'm not specifically interested in discussing these articles or reports (many others have done so already), but rather why it always so difficult and controversial to write about the worst cases.

There are basically three (somewhat overlapping) reasons:
The credibility problem: What are the plausible worst cases? And how can one tell?
The reticence problem: Are scientists self-censoring to avoid talking about extremely unpleasant outcomes?
The consequentialist problem: Do scientists avoid talking about the most alarming cases to motivate engagement?
These factors all intersect in much of the commentary related to this topic (and in many of the articles linked above), but it's useful perhaps to tackle them independently. Read more here

What is happening to our weather?

25 January 2019. If you would like to get a basic understanding of why our weather is behaving as it is access this article from The Conversation about the stubborn high-pressure system behind Australia's record heatwaves.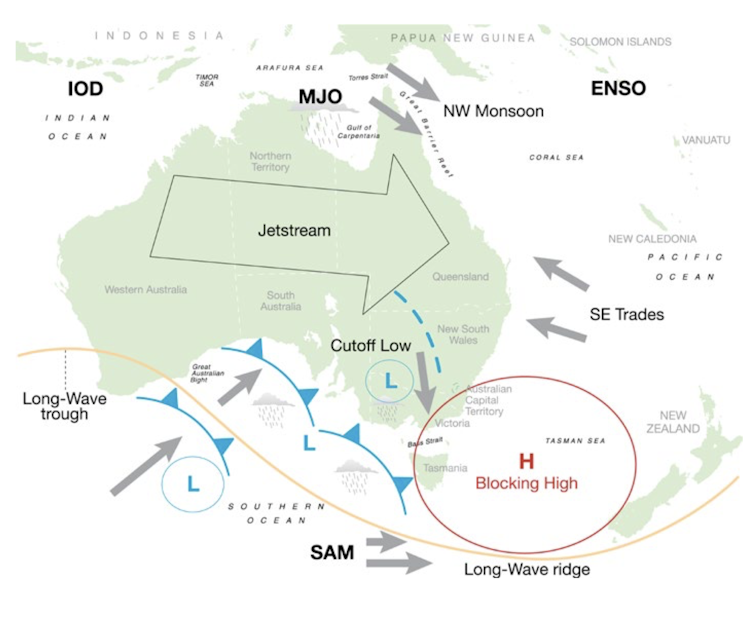 More about the Atmospheric Blocking Increase

Climate change is thought to increase the frequency of large scale atmospheric pressure patterns with little or no movement—referred to as atmospheric blocking—by increasing changes in wave activity that exceeds the jet stream's capacity.[1] Studies have begun to identify an anthropogenic component in recent blocking events that drove sustained extreme weather, including the 2003 European heatwave, the 2010 Moscow wildfires, the 2011 Texas and Oklahoma drought, and the 2011-2016 California drought. Access more here

Is this where Australia is heading? Or, are we already there?


14 August, VOX, The West (California) is on fire … again. The fire season now runs almost year-round, and 2018 is already worse than usual in California, Colorado, and Oregon. Wildfires have almost become a year-round threat in some parts of the western United States. From Colorado to California, it feels like the blazes from last year never went out. Flames ignited forests and chaparral virtually nonstop in 2017, and the year ended with record infernos in Southern California that burned well into 2018. Officials don't refer to "fire seasons anymore but rather to fire years," Jennifer Jones, a spokesperson for the National Interagency Fire Center, told me in an email. The NIFC reports that this year, wildfires have burned more than 5.6 million acres, about 27 percent above the average since 2008. At the moment, 15 states are reporting large fires, from Alaska to New Mexico. Read More here

Weather presenters in US increasingly including climate info in reports

Local US weather casters have become one of the primary conduits for news on global warming. One nonprofit helped push the change. Steve LaPointe has been a television weatherman for nearly three decades, and for most of his career, he didn't focus much on global warming. He was skeptical about the science behind it, particularly the notion that human behavior was heating the planet. But the issue wouldn't go away. So LaPointe began to do "a lot of homework," he said, reading research papers and consulting fellow meteorologists, who connected him with a nonprofit, Climate Central, that spreads information on climate change. LaPointe increasingly came to realize he was wrong — that the evidence that greenhouse gases are warming the Earth is "irrefutable." Now, LaPointe routinely reports on the effects of climate change — from the escalated growth of poison ivy to a jump in the number of high-pollen days — alongside his usual seven-day nightly forecasts on CBS affiliate WRGB in Albany, New York. Many other weather presenters are following. Read more here and go to the Mainstreaming our changing climate page for what is happening in Australia.  

The need to change the frame – reality not doom
14 May 2018, Nature Geoscience, Politically informed advice for climate action: …..Researchers are not in a position to change core features of the policymaking process that limit the use of evidence, such as time constraints, path dependencies, limited capacity to digest new information, industries exerting their influence, and competing values. And scientific advisers will not be able to force policymakers to overcome inconsistency between talk, decisions and actions. But they can play their part in hedging inconsistency in climate policy.

Consider the following thought experiment: assume that during the course of the IPCC Sixth Assessment Cycle, the research community adopts standards for assessing the achievability of climate stabilization targets more realistically19, and, for instance, communicates its findings in a slightly different way. Instead of saying "yes, meeting the 1.5 °C target is still feasible, but only if A, B and C happens", the core message would be "no, meeting the 1.5 °C target is currently not plausible, unless governments implement A, B and C".

The difference in wording is small, and scientifically, both versions are probably equally valid. But the climate policy perspective changes considerably. In the first case, policymakers can focus on the 'big prize', the cherished long-term target that is still in sight, and achievement of the target is already assumed. This is a common way of exploiting the future for today's political gains12, because governments are quite lenient when it comes to delivering the appropriate action. In the second case, instead of handing over the 'big prize' to policymakers early on, climate researchers hold it back, but define clear requirements for bringing it again into play, based on the latest scientific findings.

Such a communication would help to shift everybody's attention, from talk and decisions to actions, and from the far-away future to the next 5 to 10 years20. Shifting the communication from a "yes, if…" to a "no, unless…" frame would prevent climate research and advice from resetting the clock time and again. Instead it puts the pressure where it belongs — on governments. Read full article here.         Go to "Fairyland of 2 degrees" page for more detail  (Doodle by Margaret Hagan)

At this rate, it's going to take nearly 400 years to transform the energy system

14 March 2018, MIT Technology Review: Here are the real reasons we're not building clean energy anywhere near fast enough.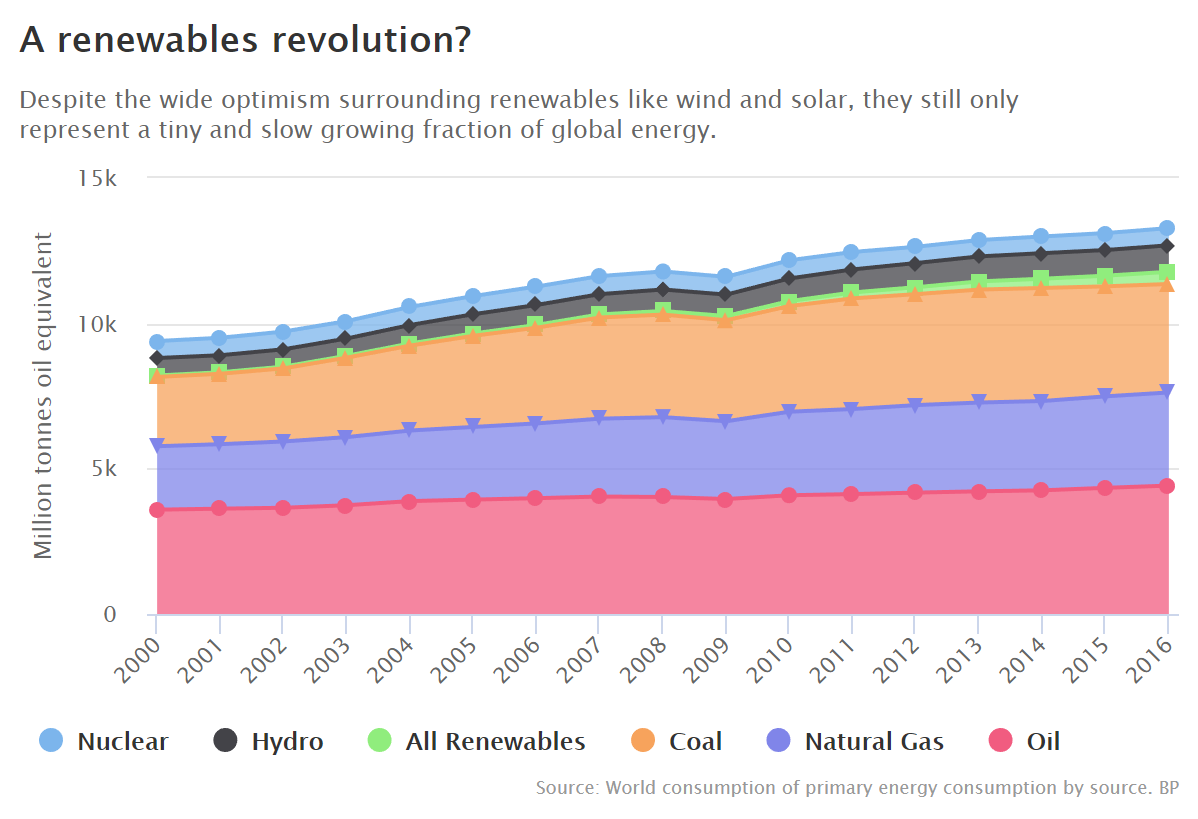 Fifteen years ago, Ken Caldeira, a senior scientist at the Carnegie Institution, calculated that the world would need to add about a nuclear power plant's worth of clean-energy capacity every day between 2000 and 2050 to avoid catastrophic climate change. Recently, he did a quick calculation to see how we're doing. Not well. Instead of the roughly 1,100 megawatts of carbon-free energy per day likely needed to prevent temperatures from rising more than 2 ˚C, as the 2003 Science paper by Caldeira and his colleagues found, we are adding around 151 megawatts. That's only enough to power roughly 125,000 homes. At that rate, substantially transforming the energy system would take, not the next three decades, but nearly the next four centuries.Read More here

Carbon dioxide can remain in the atmosphere for thousands of years and takes about a decade to reach its maximum warming effect. In other words, even with all the changes we've already seen, we have yet to experience the full impact of the carbon we spewed in 2008 and every year since. 

NOTE: Comments re Australia's growing emissions. For more information go to carbon budget 2017 also go here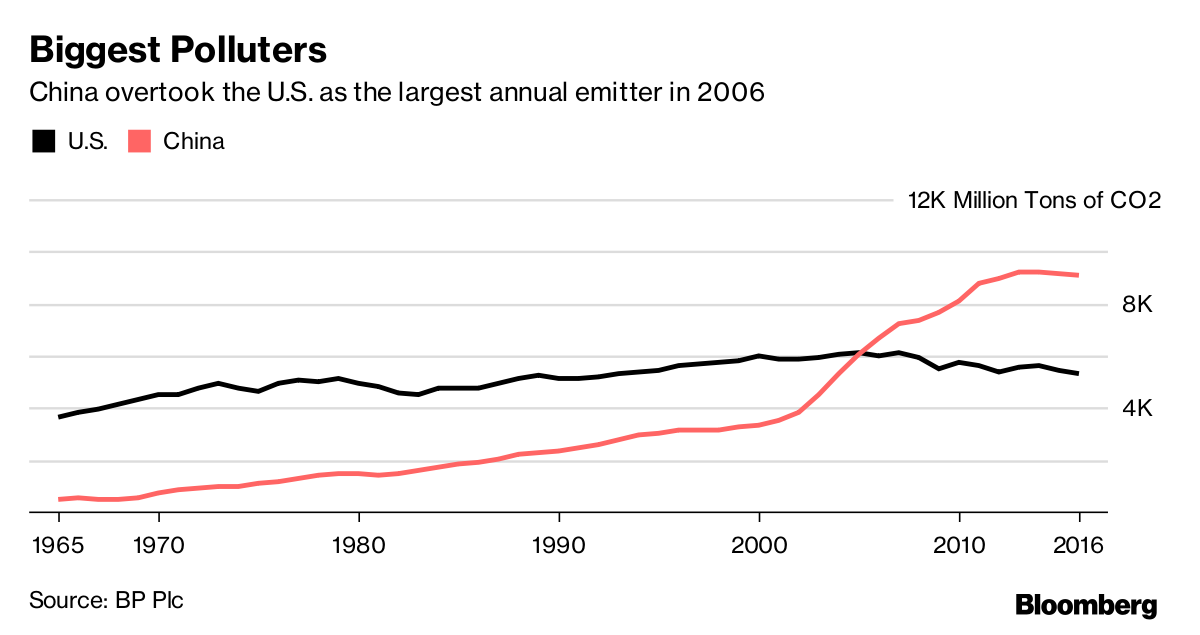 "500-year" floods are based not on history, but on probability
28 August 2017, VOX, The "500-year" flood, explained: why Houston was so under prepared for Hurricane Harvey. It's the city's third "500-year" flood in the past three years. It's difficult to comprehend the scale of the flooding and devastation that Hurricane Harvey and its aftermath are wreaking on the Houston area. Weather experts call the storm unprecedented, and note that it's gone beyond even the most pessimistic forecasts. In the final reckoning, it's certain that Harvey will be classified a 500-year flood — and maybe even a 1,000-year flood. But those terms can be a bit misleading — especially when high-profile people, like the president of the United States, confuse the issue by calling Harvey "a once in 500 year flood." In theory, a 500-year flood is something that has a 1-in-500 shot of happening in any given year — in other words, the sort of event that's so rare that it might not make sense to plan around the possibility of it happening. The problem is that 500-year floods are happening more often than probability predicts — especially in Houston. And, especially in Houston, prevention planning hasn't evolved to acknowledge that a "500-year" flood isn't really a 1-in-500 chance anymore. "500-year" floods are based not on history, but on probability. The severity of floods tends to get put in terms of years: a 100-year flood, a 500-year flood, a 1,000-year flood. But this isn't an assessment of "the worst flood in" that time — places like Houston don't actually have detailed weather records going back to 1017 AD, after all. Read More here

REMEMBER: It is all in the language
| | |
| --- | --- |
| Term | Likelihood of the outcome |
| Virtually certain | >99% probability |
| Extremely likely | >95% probability |
| Very likely | >90% probability |
| Likely | >66% probability |
| More likely than not | >50% probability |
| About as likely as not | 33 to 66% probability |
| Unlikely | <33% probability |
| Extremely unlikely | <5% probability |
| Exceptionally unlikely | <1% probability |
IN IPCC LANGUAGE If an event is virtually certain, there is a greater than 99% probability that it will occur.

When you read IPCC/UN reports and see these terms have a think about the probability rating of ordinary activities that we all normally insure against:
House burning down: 1% probability
Involved in serious car accident in our lifetime: 30% probability
And the days we buy a lottery ticket, just in case…: 0.026084% probability of winning (less than 3/100th of a percent)
Clarke and Dawe absolutely nail the Australian energy debate

 16 March 2017, (FROM) RenewEconomy has spent more than five years analysing the energy debate in Australia, and comedians John Clarke and Byran Dawe may have spent only a few days.But in their latest episode, an interview with "Wal Socket", they have absolutely nailed it. We can't think of anything else to say, but to invite you to watch it.
Global 2C warming limit not feasible, warns top economist

4 January 2017, Climate Home, With "extreme policy measures", a 2.5C limit is in reach, according to latest climate model from William Nordhaus. Agreed by 195 countries in December 2015, the Paris climate deal was billed as an historic game-changer by UN officials when it came into force last November. Not everyone is convinced, least of all the respected climate economist William Nordhaus, who dismisses the deal as "rhetoric" in a new paper. The Yale academic – who has explored the implications of climate change since the early 1990s – ran the numbers through his economic model known as DICE and came up with some bleak answers. "The international target for climate change with a limit of 2C appears to be infeasible with reasonably accessible technologies – and this is the case even with very stringent and unrealistically ambitious abatement strategies," he writes. "This is so because of the inertia of the climate system, of rapid projected economic growth in the near term, and of revisions in several elements of the model. A target of 2.5C is technically feasible but would require extreme policy measures." Nearly 200 countries submitted climate plans as part of the Paris deal. Independent analysts reckon their combined emission cuts will only limit warming to 2.7C above pre industrial levels, breaching the global target and likely to lead to faster sea level rise and erratic weather events. Ramming home the message, Nordhaus says: "notwithstanding what may be called 'The Rhetoric of Nations,' there has been little progress in taking strong policy measures." Access full report here: PROJECTIONS AND UNCERTAINTIES ABOUT CLIMATE CHANGE IN AN ERA OF MINIMAL CLIMATE POLICIES
Open the Climate Council Time Warp here

Another neighbour leaves Oz in its dust

The International Energy Agency estimates that countries spent $US493 billion on consumption subsidies for fossil fuels in 2014, while the UK's Overseas Development Institute suggests G20 countries alone devoted an additional $US450 billion to producer supports that year. Throw in the unpaid environmental and climate impacts, and the International Monetary Fund puts total annual subsidies for fossil fuels at more than $5 trillion. Read More here 

If the Poms can do it why can't Oz?
Needing some perspective in the debate?
It's the economy that needs to be integrated into the environment – not the other way around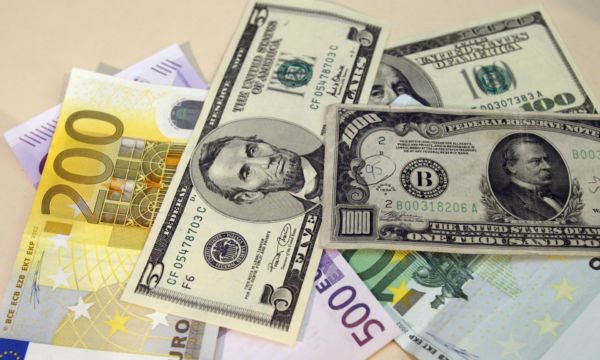 14 June 2016, The Guardian, Six months and counting. BP's Statistical Review of World Energy is a standard industry reference document. It's a useful indicator of trends, if occasionally the victim of politics. But the newest edition brings welcome news that the growth of global carbon emissions paused in 2015, partly to do with a shift to renewables, and partly the result of passing economic conditions, both notable in China. But BP, the company that once promised to go "beyond petroleum", is sticking firmly with oil and gas. Its get-out strategy from appearing over-fossilised in attitude, is to call for a "meaningful carbon price," advocated by its chief economist, Spencer Dale. Superficially, that seems a safe, sensible and increasingly popular option. The idea of carbon pricing is widely supported across the political, campaign and expert spectrum. But there is reason to doubt either the sincerity or analytical rigour of BP's faith in carbon pricing as the principal tool for tackling climate change. A curious by-product of the EU referendum has been an unprecedented level of scrutiny and scepticism given to economic models. Lurid claims by both sides about possible costs and benefits rely on them. An uncritical mantra of headline statistics about the economy is a staple of daily news. We are meant to just accept simple interpretations of a rise or fall in growth, the deficit, a movement in prices or the reaction of "markets", however bizarre may be the presence or absence of various assumptions buried in the underlying models……It is the economy that needs to be properly integrated into the environment so that its limits to growth can be understood. Read More here

Risk = potential future damage x probability of occurrence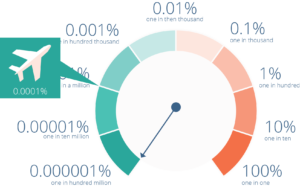 Global Challenges Foundation: How can we make something as abstract and complex as risk into something comprehensible? We believe that a key to doing this lies in being able to compare the probability of catastrophes so great that their consequences are unimaginable, with the likelihood of minor events which we must face on a daily basis. It is one thing to say that, with current levels of greenhouse gases, the risk of the global temperature rising by six degrees is 0.5 percent. But explaining that this corresponds to an increase in the number of aviation accidents from 30 a year to more than 400 a day gives a different perspective, and it is here that the risk and opportunity indicator comes into the picture. Click on graphic to take you to GCF's interactive RISK INDICATOR that provides a range of options to choose from – PPM; degrees, databases and another risk to compare it with. For example: PPM of 400; 2 degree warming, an IPCC optimistic database and compared to dying in a terrorist attack = Exceedance Probability of 33.5% compared to dying in a terrorist attack of 0.00018%. Have a go….

And where is the leadership? The report continues…..

"The reasons for not doing what is obviously in our collective best interest have been widely canvassed, but one striking element is the lack of public ideas leadership. How many figures of public standing in Australia are prepared to consistently canvas the main issues discussed here, even if we disagree about some of the details? You could count them on the fingers of one hand. In fact, how many are prepared to talk about these issues in the public arena at all? Timidness and a relentless bright-siding infuse the public conversation, as if people cannot bear to hear the truth. But what if public is more prepared for the conversation than are our public ideas leaders? Recent work by Melanie Randle and Richard Eckersley investigated the perceived probability of threats to humanity and different responses to them (nihilism, fundamentalism and activism) in the US, UK, Canada and Australia: So here is the great irony: people have got a fair, intuitive sense of what might be coming, but our ideas leaders can't talk about it. Now is the time to press those who aspire to leadership on climate issues and action to ask the questions that prompted the writing of this discussion paper. If the propositions are contentious, let's debate them rather than keeping them hidden under a cone of silence. Repressing troubling thoughts does not resolve them, but means only they will come back to haunt us in an increasingly intense manner." Read the full report here

 Dangerous climate warming – myth & reality

I have recently come across the following report, again, since I downloaded it in October 2014 – It is even more relevant since the COP21. 

The stated purpose of international climate negotiations is to avoid "dangerous" climate change or, more formally to prevent "dangerous anthropogenic  interference with the climate sytem". But if conditions existing today are already sufficient to push more climate system elements past their tipping points and create "catastrophic" breakdown without any further emissions, what then is our purpose and what do we say? This report explores recent scientific literature to explore seven myths of the predominant climate policy-making paradigm:
Myth 1: Climate change is not yet dangerous
Myth 2: 2oC is an appropriate focus for policy making
Myth 3: Big tipping points are unlikely before 2oC
Myth 4: We should mitigate for 2oC but plan to adapt for 4oc
Myth 5: We have a substantial carbon budget left for 2oC
Myth 6: Long-term feedbacks are not materially relevant for carbon budgeting
Myth 7: There is time for an orderly, non-disruptive reduction in emissions within the current political-economic paradigm
WRONG! Access full report here

Do you need an idea of what it might be like in 2040?

Prof. Jean Palutikof founding Director of the National Climate Change Adaptation Research Facility (NCCARF) at Griffith University, provides a graphic picture that might be useful. Why do I think her view is worth considering? Professor Palutikof was based at the UK Met Office during which time she managed the production of the Intergovernmental Panel on Climate Change (IPCC) Fourth Assessment Report for Working Group II (Impacts, Adaptation and Vulnerability). Professor Palutikof is among the foremost scholars of climate change adaptation and was lead author and review editor for several assessments of the Intergovernmental Panel on Climate Change (IPCC). Access article here

Read More here Following is the conclusion of the Hansen et al report (Ice Melt, Sea Level Rise and Superstorms: Evidence from Paleoclimate Data, Climate Modeling, and Modern Observations that 2°C Global Warming is Highly Dangerous)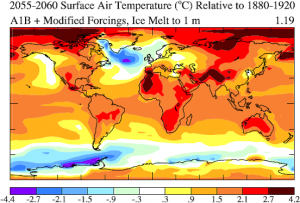 We conclude that the 2°C global warming "guardrail", affirmed in the Copenhagen Accord (2009), does not provide safety, as such warming would likely yield sea level rise of several meters along with numerous other severely disruptive consequences for human society and ecosystems. The Eemian, less than 2°C warmer than pre-industrial Earth, itself provides a clear indication of the danger, even though the orbital drive for Eemian warming differed from today's human-made climate forcing. Ongoing changes in the Southern Ocean, while global warming is less than 1°C, provide a strong warning, as observed changes tend to confirm the mechanisms amplifying change. Predicted effects, such as cooling of the surface ocean around Antarctica, are occurring even faster than modeled.

Our finding of global cooling from ice melt calls into question whether global temperature is the most fundamental metric for global climate in the 21st century. The first order requirement to 44 stabilize climate is to remove Earth's energy imbalance, which is now about +0.6 W/m2 , more energy coming in than going out. If other forcings are unchanged, removing this imbalance requires reducing atmospheric CO2 from ~400 ppm to ~350 ppm (Hansen et al., 2008, 2013a).

The message that the climate science delivers to policymakers, instead of defining a safe "guardrail", is that fossil fuel CO2 emissions must be reduced as rapidly as practical. Hansen et al. (2013a) conclude that this implies a need for a rising carbon fee or tax, an approach that has the potential to be near-global, as opposed to national caps or goals for emission reductions. Although a carbon fee is the sine qua non for phasing out emissions, the urgency of slowing emissions also implies other needs including widespread technical cooperation in clean energy technologies (Hansen et al., 2013a).

The task of achieving a reduction of atmospheric CO2 is formidable, but not impossible. Rapid transition to abundant affordable carbon-free electricity is the core requirement, as that would also permit production of net-zero-carbon liquid fuels from electricity. The rate at which CO2 emissions must be reduced is about 6%/year to reach 350 ppm atmospheric CO2 by about 2100, under the assumption that improved agricultural and forestry practices could sequester 100 GtC (Hansen et al., 2013a). The amount of CO2 fossil fuel emissions taken up by the ocean, soil and biosphere has continued to increase (Fig. S23), thus providing hope that it may be possible to sequester more than 100 GtC. Improved understanding of the carbon cycle and non-CO2 forcings are needed, but it is clear that the essential requirement is to begin to phase down fossil fuel CO2 emissions rapidly. It is also clear that continued high emissions are likely to lock-in continued global energy imbalance, ocean warming, ice sheet disintegration, and large sea level rise, which young people and future generations would not be able to avoid. Given the inertia of the climate and energy systems, and the grave threat posed by continued high emissions, the matter is urgent and calls for emergency cooperation among nations.

Key Information and Resource Sites 

Australian Alliances for climate change action (c/- ACF website)
ACF is an active part of Climate Action Network Australia (CANA), an alliance of regional, state and national environmental, health, community development, and research groups working together to support a dynamic, diverse and growing climate movement in Australia.
The Southern Cross Climate Coalition is an alliance of the Climate Institute, the Australian Council of Social Service, and the Australian Council of Trade Unions. Together, we work to cut pollution with policy that is fair and creates jobs in Australia.
The Australian Business Roundtable on Climate Change was formed in 2004 by ACF with six of Australia's largest businesses — BP Australia, Insurance Australia Group, Origin Energy, Swiss Re, Visy Industries and Westpac — to publicise the business risks and opportunities of climate change and to work co-operatively on solutions.
On climate change, we also collaborate with unions on Union Climate Connectors and with community groups in the Climate Action Network Australia.
 About Us

Project: Local Earth Awareness Network was established in 1988 to help raise the awareness of the local community to the environmental crises that face humanity and ways to respond at the local community level. The need to "THINK Globally and ACT Locally" is even more urgent now.
Collects and monitors information;
Actively disseminates this information via this website throughout the local community; 
Emphasis is on succinct, reputable information/data and practical, doable on-the-ground examples and guidelines for local action
Available for admin or project work