What you will find on this page: what is the network; network purpose; disclaimer; clusters formed for each fire season; information session details; contacts for more information; community support for network. (links in blue)  
NOTICE! Cluster information sessions have now been organised for this coming season, so watch your letterbox if you are in a cluster. Don't know if you are in a cluster area? Go here to check. 
Keep up to date by joining us on the Network's Facebook Page here
Brown Hill Community FireAware Network 
Did you know that Brown Hill is in a Bushfire Prone Area?
Latest News

6 December 2019, The Conversation, Friday essay: living with fire and facing our fears.

It is only mid-November but we have to walk early to avoid the heat. A northerly wind picks up clouds of dust and pollen, sending dirty billows across the paddocks. The long limbs of the gum trees groan overhead. Leaves and twigs litter the road. We stop to pull a branch off to the side. Not even summer yet and already we are facing our first catastrophic fire rating of the season. Normally, I don't even worry much about fires until after Xmas. In the southern states, it is January and February that are the most dangerous. ths, even though it is hot and unpleasant. Now I'm worried we will have to cancel our pre-Christmas holiday plans. Winter will be the only time we can leave.

Read more here

7 February 2019, The Conversation, How a bushfire can destroy a home. 

Ten years after the devastation of Black Saturday, building design has largely been unrecognised as an area worthy of research. We have advanced our knowledge of the materials used in the 

construction of homes

in bushfire-prone areas but we continue to use the design model of the suburban home. This needs to change. An initial starting point is to consider the way previous bushfires have damaged and destroyed buildings. 

Elements of a bushfire 

A bushfire has five different elements: smoke, wind, embers, flames, and radiant heat (the latter two are collectively called the "fire front"). Smoke and wind are usually present throughout a fire, but are particularly high when the fire burns at its most intense levels. Depending on the type of vegetation burning, isolated flying embers may arrive hours before a fire front. Intense ember attacks usually occur 15-30 minutes before a fire front arrives, and may persist for up to 8 hours after the fire front moves on. Radiant heat at a level that makes it impossible to survive outside will persist during the passage of the fire front, which may last anywhere between 2 and 15 minutes. However, if consequential fires are ignited by the main fire front, the radiant heat may remain at non-survivable levels for much longer. The smoke of a bushfire reduces visibility and can turn a bright day into night. A change in wind direction can renew a threat residents thought had already passed them. 

How will a bushfire attack your home? Read more here

14 November 2019, The Conversation, 12 simple ways you can reduce bushfire risk to older homes. 

Seventy-five years of Australian research into how houses respond to bushfire has identified 21 main weak points in houses and the area immediately surrounding them. In recent decades this knowledge has been used to inform 

new building construction

. But older houses are generally not built to the same standard, unless they have been significantly renovated. Older homes make up the majority of buildings in bushfire prone-areas. There are some simple things that can improve the performance of an older house in a bushfire. Here are 12 suggestions: six simple projects that could be done over a weekend or two, and six low-cost things you could do in a single afternoon.

Read more here

End Latest News
Bushfire outlook for 2019-2020 season
28 August 2019, ABC News: Bushfire outlook for 2019-20 not good news, but will we heed the warnings?  The country's top emergency officials have today warned of the dangers of the impending bushfire season, imploring the public to make sure their disaster plans are ready. "Our research shows that whenever we go into communities post events, a large proportion of that community are not well prepared for the fire season," said Dr Richard Thornton from the Bushfire and Natural Hazards Cooperative Research Centre (BNHCRC). Read more here
Have you ever been in a bushfire ember storm? Click on the image below taken by ABC News of the Sunshine Coast bushfire ember attack during height of firestorm, early September 2019.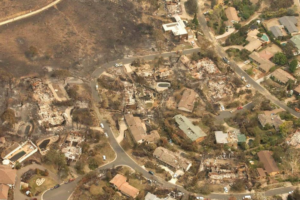 Fire invading the suburbs of Canberra 2003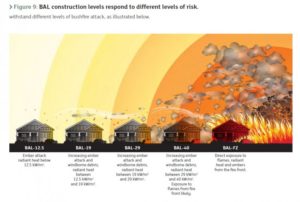 Bushfire Attack Levels (BAL)  for buildings in Fire Prone Areas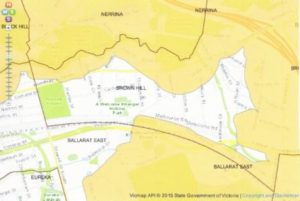 What are Bushfire Prone Areas? Bushfire Prone Areas are areas that are subject to or likely to be subject to bushfires. To view the Bushfire Prone Area of Brown Hill access the link here. Source: Visualising Ballarat. 
Bushfire protection and my property: This is the main Vic DELWP site  You can get your own property report from this page in regard to planning overlays. A Guide to retrofit your home for better protection from a bushfire: This guide, among other things provides a simple table that outlines low /moderate and high cost alternatives and sets out different requirements for the BAL ratings. A Guide to Windows and Doors in Bushfire Prone Areas: Another more detailed guide for windows and doors. FAQs – Bushfire Prone Planning – BAL Assessments. Even though this site relates to WA I found the information provided  quite useful. Contact City of Ballarat for more specific details on 5320 5500

Also refer to the following FireAware Network pages:
What is the Brown Hill Community FireAware Network?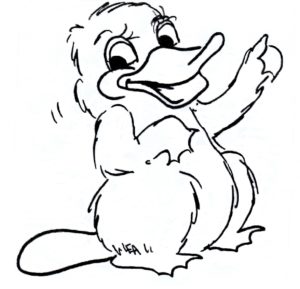 The network consists of "walkable" Neighbourhood Clusters, spread across the suburb of Brown Hill – a priority being the households/streets on the urban-rural interface of Brown Hill along the Yarrowee River and the growing number of subdivisions of Brown Hill north of the freeway, all located within the designated Bushfire Prone Area. 
(Penny Platypus is the mascot for the Network – learn more about Penny here)
What is the purpose of a cluster?
to provide a yearly reminder of the need to prepare for the fire season;

to present in a variety of ways information that is relevant to a specific neighbourhood;

to highlight that it is everyone's responsibility to be aware and prepared to act in a fire event impacting on their community or a community nearby;

to encourage in households the "habit" of preparation
Disclaimer
Please note the information provided through the information sessions and web pages is not for the purpose of giving specific advice. The information is offered in good faith for those wishing to know more about the potential risk to their community and wanting to take responsibility for their own informed decisions.  The information and material offered is freely available from a number of sources, primarily fire/emergency services sites such as CFA and other State emergency services and research institutions.
Clusters for the 2018/19 fire season
There are four neighbourhood clusters for the pre-fire season of 2017/18. Access more details here
Two north of the freeway
Coorabin Estate (covering approximately 70 households)
Janson Rd & Stringybark Dr (approx. 40 households)
Two south of the freeway
Russell Sq & Lane St (approx 200 households)
Finlay St Sth & Bradbury St (approx 70 households)
Information sessions available through clusters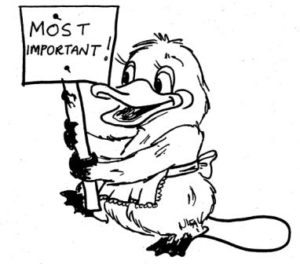 Clusters offer information sessions to their cluster residents specifically tailored to their location:
Sessions can cover a range of topics, for example:
Presentation of the risk of a fire event impacting on the community of Brown Hill and in particular the neighbourhood cluster involved:
Myths relating to fire and household safety;

Reality of urban fire risk highlighting ember attacks – varying intensity & duration;

Overview of Brown Hill community risk; 

Specific risks to the cluster location;

What it is like to be near a bushfire
Preparing household and property prior to the fire season:
Fire weather awareness – Fire Danger Ratings;

Review of high and low risk within the cluster (direct and indirect impact);

Overview of preparation required for both levels;

Basics for pre-season property preparation;

Basics for household bushfire plans
Wanting more information about the Network?
NETWORK CONTACT: Hazen – hmc433@hotmail.com 
CLUSTER CONTACTS details access here
What community support is there for the Network?
The following have offered their support to the Network in a variety of ways as a means to help raise the awareness of residents of Brown Hill of the bushfire risk to the urban interface and assist them in preparing for such an event:

Brown Hill Progress Association
Country Fire Authority (Ballarat local office)

City of Ballarat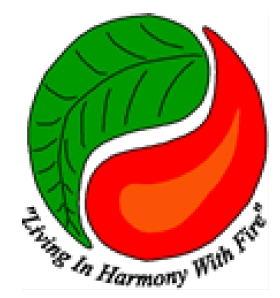 Dr Kevin Tolhurst (Tolhurst Bushfire Services)
In 2015 Kevin was made a Member of the Order of Australia (AM) for his significant service to science through land and bushfire management, and to the community through providing expert advice at fire emergencies.  He works and lives in Creswick and therefore has a wealth of knowledge of our local area. 
Gary Morgan       AM AFSM; Principal Consultant; Global Wildland Fire Management Services
Gary Morgan former Bushfire CRC CEO was recognised for his significant service to the community with an Australia Day honour in 2018, Becoming a member of the Order of Australia (AM). Gary was awarded this honour for his significant service to the community through emergency response organisations, and to forest and fire research and management. He has spent more than 20 years in senior land and fire management roles. As Victoria's Chief Fire Officer for public lands, for nine years, he was responsible for the management and deployment of fire suppression personnel. He became the CEO of the Bushfire CRC in mid-2007. He is a long time resident f Ballarat.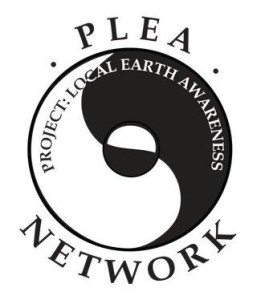 PLEA Network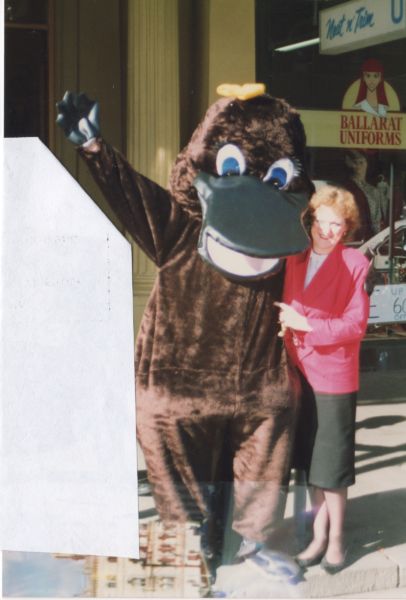 Penny is the Network's mascot, who is a very large platypus, a long time resident of the Yarrowee and was created to promote the "Ballarat' Regional Conservation Strategy" in the early 1990's. Penny has come out of retirement to put her name to and support the network. Many thanks to her creator Leanne Westblade (1991).