What you will find on this page: Special Climate Statement 64 – record warmth in Tasman Sea; Special Climate Statement 62 – record heat in September; Special Climate Statement 61 – exceptional heat; Annual Climate Statement 2016 (video); State of the Climate Report 2016 (video); record September rains; climate zones on the move; Australia's changing rainfall zones;  BOM UPDATES: ENSO Wrap-up (El Nino/La Nina); climate outlook update (video); climate outlook – monthly & seasonal; latest drought statement; heatwave outlook; Water in Australia 2014-2015 Report; monthly water update; Australian landscape water balance; Special Climate Statements; 
Where the rubber hits the road – what IS the weather doing?
The difference between weather and climate is a measure of time. Weather is what conditions of the atmosphere are over a short period of time, and climate is how the atmosphere "behaves" over relatively long periods of time. (NASA) 
Understanding what drives climate in Victoria and how they are changing

The Climatedogs animation series is an award winning series of short animated videos produced by DEPI. The animations explain what drives the climate in Victoria, and how climate drivers are changing over time. Access here for more information
Special Climate Statement 64 – Record warmth in the Tasman Sea, New Zealand and Tasmania. Joint statement with NIWA (New Zealand)
27 March 2018 – Sea surface temperatures in the southern Tasman Sea rose to exceptionally high levels in late 2017 and early 2018. These temperatures were far above any others previously observed at that time of year in the region, and extended west from New Zealand to Tasmania and mainland southeast Australia. In parallel with this, land temperatures were well above average in areas near the Tasman Sea warm anomalies, with many records set both in New Zealand and in southeast Australia (especially Tasmania).Access full report here
Special Climate Statement 62 – Exceptional September heat in eastern Australia
5 October 2017 – On 22 September 2017, Australia as a whole had its warmest September day since national area-averaged temperature records began in 1911. In the following week, New South Wales and Queensland had their warmest September days on record, and South Australia, Victoria and the Northern Territory each had days in their top-10 warmest for September. More than 20% of Australia by area recorded its hottest September day on record during 22–29 September. Access full report here
Special Climate Statement 61—exceptional heat in southeast Australia in early 2017
22 February 2017 – Summer 2016–17 saw prolonged and, at times, extreme heat over New South Wales, southern Queensland, South Australia and parts of northern Victoria. January 2017 saw the highest monthly mean temperatures on record for Sydney and Brisbane, and the highest daytime temperatures on record for Canberra. In January and February, there were three distinct heatwaves in southeast Australia, with the highest temperatures recorded over 9–12 February 2017. The periods between the waves of extreme heat also saw above average temperatures over large areas of east and southeast Australia. It was the consistency of high temperatures more than the extreme temperatures themselves that made early 2017 an exceptional event. Access full report here
State of the Climate Report – 2016 2015

The Bureau of Meteorology and CSIRO play an important role in monitoring, analysing and communicating observed changes in Australia's climate. This fourth, biennial State of the Climate report draws on the latest monitoring, science and projection information to describe variability and changes in Australia's climate, and how it is likely to change in the future. Observations and climate modelling paint a consistent picture of ongoing, long-term climate change interacting with underlying natural variability. Read more and to access full report here & access commentary here
Special Climate Statement 58 – record September rains continue wet period in much of Australia
12 October 2016: September was an exceptionally wet month over most of the eastern two-thirds of mainland Australia, as a succession of rain-bearing systems affected various parts of the continent. Monthly rainfall was at least double the long-term average over almost all of inland New South Wales and Queensland, most of the Northern Territory and outback South Australia, and parts of northern and western Victoria and eastern South Australia. Averaged over Australia as a whole, it was the second-wettest September on record, just behind September 2010. It was the wettest September on record for New South Wales and the Northern Territory, as well as for the Murray−Darling Basin, while it ranks second-wettest for Victoria, third-wettest for Queensland and fourth-wettest for South Australia. Access full report here
Rule of Thumb; For every one degree increase in global average temperature the climate zones can move 150kms.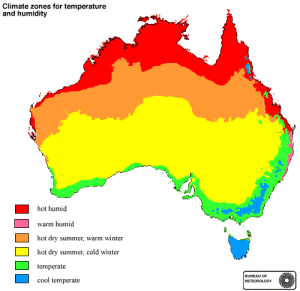 As the planet warms, Earth's climate zones are shifting at an accelerating pace….The acceleration of change means that the species inhabiting each zone have less time to adapt to the climatic changes…. "The warmer the climate gets, the faster the climate zones are shifting.  This could make it harder for plants and animals to adjust." Read More here & here
According to research in Nature Climate Change, with a warming of 2°C, about 5% of land would shift into a new climate zone. As the temperatures rise another 2°C, 10% of the land area shifts to a new zone.
The results of a study published in the journal Biological Conservation recently concluded that in Australia, the climate is warming to an extent that many specialised tree species that require cooler climates are struggling. Typically, these trees would start to shift to cooler environments, but as Craig Costion explained "they already live on mountain tops…they have no other place to go."
Australia's changing rainfall zones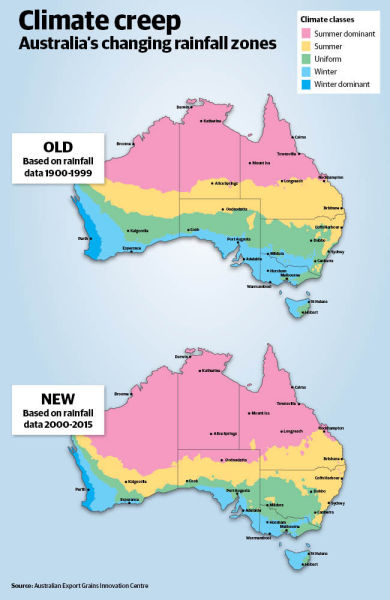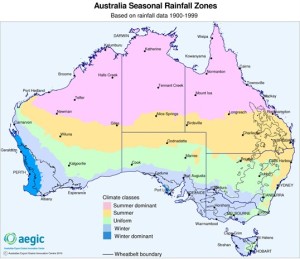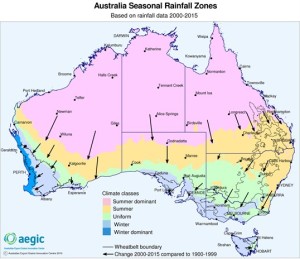 Source: Australian Export Grains Innovation Centre
BOM Newsroom for latest weather alerts
The Bureau of Meteorology Newsroom has been designed to provide material that can be easily sourced and referenced by journalists in media coverage of weather, warnings and other information of public interest. Access Newsroom here
Latest BOM: Issued on 10 April 2018    Next issue: 24 April 2018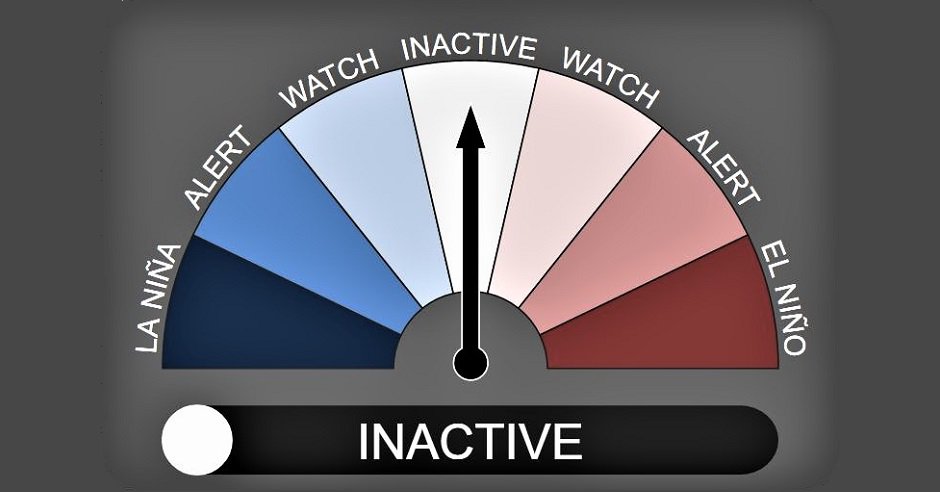 El Niño–Southern Oscillation influence on the climate remains weak. The El Niño–Southern Oscillation (ENSO) remains neutral—neither El Niño nor La Niña. Most models predict a neutral ENSO pattern will persist through the southern autumn and winter. Most atmospheric and oceanic indicators of ENSO are at neutral levels. Sea surface temperatures in the central Pacific are close to average for this time of year. Beneath the surface, the tropical Pacific Ocean is slightly warmer than average, but well within the neutral range. In the atmosphere, cloud and pressure patterns remain weakly La Niña-like, but trade winds are close to average. Climate models indicate that tropical Pacific Ocean sea surface temperatures will continue to rise, but remain ENSO neutral for the remainder of the southern autumn and winter. The Indian Ocean Dipole (IOD) is currently neutral. Most models indicate a neutral IOD is likely for autumn and early winter. However, two of six models indicate a negative IOD is possible during winter. During negative IOD events, southern Australia typically experiences a wetter than average winter-spring. Climate model outlooks for ENSO and the IOD have lower accuracy during autumn than at other times of the year. Hence, current model outlooks of these climate drivers should be viewed with some caution.
BOM Climate outlooks – monthly and seasonal
Climate outlook overview (access full outlook here)
The May to July rainfall outlook, issued 12 April 2018, shows the far southeast of Australia is likely to have a wetter than average three months. Parts of northern Australia are also likely to be wetter than average, however, as May-July is the start of the northern Australian dry season, very little rainfall is needed to exceed the median. The rest of the country has roughly equal chances of a wetter or drier than average three months.

May to July daytime temperatures are likely to be warmer than average for southern Australia.

Night-time temperatures are likely to be warmer than average for southern parts of Australia while most of Queensland is likely to have cooler than average nights.

May days and nights are likely to be warmer for much of the country.

The El Niño–Southern Oscillation in the tropical Pacific Ocean is neutral, and is expected to remain so for the coming season. The Indian Ocean Dipole (IOD) is also neutral, with the possibility of a negative IOD event from June. With mostly neutral climate drivers, there is no strong push towards broadscale wetter or drier conditions across the country. See the Climate Influences section for more information, or our blog on what to expect when climate drivers are neutral or weak.
The latest and full Drought Statement is now available on the Bureau's website. Issued 7 February 2018
Above average rainfall for Western Australia eases deficiencies: Rainfall for January was below to very much below average for most of Queensland south of the Cape York Peninsula and across the northeastern third of New South Wales, reaching as far south along the coast as the Illawarra District. Monthly rainfall was also below average for most of Tasmania away from the east, and across southwestern and northwestern Victoria and adjacent areas just across the South Australian border. Compared to the previous Drought Statement, deficiencies have increased in inland and western Queensland, and on the east coast of New South Wales between the Manning and Illawarra districts. January rainfall was above average across much of the Cape York Peninsula in Queensland, the northern half and far southwest of the Northern Territory, Western Australia, western to central South Australia, and small parts of the Great Dividing Range in Victoria and southeastern New South Wales. Rainfall in the Northern Territory and Western Australia was mostly associated with the passage of tropical cyclone Joyce during the first half of the month, and a slow-moving tropical low later in the month. Joyce's remnant low brought heavy rainfall along the west coast leading to daily rainfall records for January at many locations, including around Perth. This rainfall has eased deficiencies across Western Australia at both the 8- and 10-month timescales, although deficiences remain along the northwest coast.
BOM Heatwave Service for Australia
The Heatwave Forecast is a Bureau of Meteorology product that shows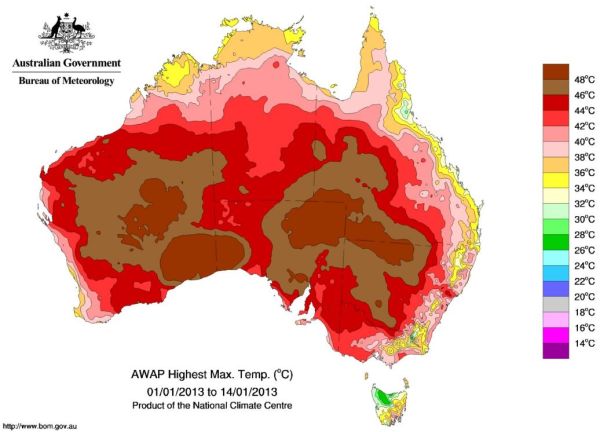 the location of heatwaves, severe heatwaves and extreme heatwaves for the last two three-day periods and the next five three-day periods. It uses some analysis Numerical Weather Prediction model data, not the Official Forecast data. Please refer to official Bureau of Meteorology products for information on how hot each day and night will be during the three day period. Click on image to access BOM site.
April 2016: Just when we thought summer was coming to an end, a prolonged heatwave affected much of Australia during late February and March 2016. A Special Climate Statement includes information and maps about this extended heatwave.
It developed in northern Australia during the second half of February, where temperatures were well above normal from the second week of February onwards. For example, at Julia Creek in Queensland, a run of 21 consecutive days of 40 °C or above began on 12 February, peaking in the last few days of the month. Over the final fortnight of February, maximum temperatures were at least 2 °C above average over most of tropical Australia, and 4–6 °C above average over parts of northwestern Queensland. Read More in BOM's  Special Climate Statement
Water in Australia – 2014-2015 BOM Report
Water in Australia 2014–15 describes the characteristics of the country's water resources, availability and use from 1 July 2014 to 30 June 2015 in the context of climatic conditions, and past water availability and use. In 2014–15, Australia generally experienced below-average rainfall (10 per cent less than the national average since 1910–11) with large seasonal and regional variation, including below-average rainfall throughout the east, and above-average rainfall in the central north, northwest and southeast. Mainly in the eastern parts of Australia, these patterns were influenced by near-El Niño conditions in spring 2014, evolving into El Niño by May 2015. Read More here
The BOM Monthly Water Update provides an overview of rainfall patterns and streamflow status across Australia. Rainfall is a key driver of streamflow and is shown alongside flows from over 222 gauging stations, across 9 of the 13 topographic drainage divisions in Australia. The Monthly Water Update interprets the hydrological status of surface water flows each month using provisional information from data providers.
BOM Australian Landscape Water Balance
Details accessed through date and location – go here The landscape water balance is the sum of the hydrological processes that keep water moving through a landscape—recharging groundwater, filling streams and flushing water through wetlands. This water balance also determines how much moisture is in the soil—a vital input for seasonal planting and crop production decisions.