What you will find on this page: city planning needs to change (video); LATEST NEWS; making cities work; new resource guide for advanced learning on climate change and cities; Paris climate package: Basic Guide for Local and Sub-national Governments; local govt & climate policy; ICLEI tools for change; cities cutting emissions; Australian cities committing to action; 100 Resilient Cities (video); global cities get together; US cities policy & program efforts; also refer to pages: population & consumption, food & water issues, people stress and downsizing plan B as the issues are closely related
Cities need to lead the way

UN-Habitat: The effects of urbanization and climate change are converging in dangerous ways. Cities are major contributors to climate change: although they cover less than 2 per cent of the earth's surface, cities consume 78 per cent of the world's energy and produce more than 60% of all carbon dioxide and significant amounts of other greenhouse gas emissions, mainly through energy generation, vehicles, industry, and biomass use.
At the same time, cities and towns are heavily vulnerable to climate change. Hundreds of millions of people in urban areas across the world will be affected by rising sea levels, increased precipitation, inland floods, more frequent and stronger cyclones and storms, and periods of more extreme heat and cold. In fact, many major coastal cities with populations of more than 10 million people are already under threat. Climate change may also negatively impact infrastructure and worsen access to basic urban services and quality of life in cities.Read More here
Latest News

Changing Climate, Changing Cities

NEW YORK TIMES SERIES: How climate change is challenging the world's urban centers.
15 June 2017, New York Times, The Dutch Have Solutions to Rising Seas. The World Is Watching. In the waterlogged Netherlands, climate change is considered neither a hypothetical nor a drag on the economy. Instead, it's an opportunity……No place in Europe is under greater threat than this waterlogged country on the edge of the Continent. Much of the nation sits below sea level and is gradually sinking. Now climate change brings the prospect of rising tides and fiercer storms. From a Dutch mind-set, climate change is not a hypothetical or a drag on the economy, but an opportunity. While the Trump administration withdraws from the Paris accord, the Dutch are pioneering a singular way forward. It is, in essence, to let water in, where possible, not hope to subdue Mother Nature: to live with the water, rather than struggle to defeat it. The Dutch devise lakes, garages, parks and plazas that are a boon to daily life but also double as enormous reservoirs for when the seas and rivers spill over. You may wish to pretend that rising seas are a hoax perpetrated by scientists and a gullible news media. Or you can build barriers galore. But in the end, neither will provide adequate defense, the Dutch say. And what holds true for managing climate change applies to the social fabric, too. Environmental and social resilience should go hand in hand, officials here believe, improving neighborhoods, spreading equity and taming water during catastrophes. Climate adaptation, if addressed head-on and properly, ought to yield a stronger, richer state. This is the message the Dutch have been taking out into the world. Dutch consultants advising the Bangladeshi authorities about emergency shelters and evacuation routes recently helped reduce the numbers of deaths suffered in recent floods to "hundreds instead of thousands," according to Mr. Ovink. Read More here

3 April 2017, The Conversation, This is the first article in our series Making Cities Work. It considers the problems of providing critical infrastructure and how we might produce the innovations and reforms needed to meet 21st-century needs and challenges. 
Infrastructure: Our cities and regions depend on the critical nodes and arteries that together comprise urban infrastructure systems. This includes energy, food, water, sewerage and communications. The positioning of critical infrastructure is crucial to our understanding of the world we live in and how we see ourselves. It's our means of survival as Homo urbanis. This means key questions around critical infrastructure need to be better considered. How is it critical, when and for whom? Beyond espionage, sabotage and coercion. Critical infrastructure has received much attention in recent years. The reasons include concerns about exposure to terrorist attack, disruption by disasters, rising awareness of the interdependent nature of urban infrastructure, and changes in ownership and responsibility for infrastructure assets….Infrastructure is defined as critical on the basis of what is at threat should it be destroyed or disabled, and how much that matters. Yet what is critical about critical infrastructure is not just a matter of national security threats. It is also the key linkages between this infrastructure and human and environmental system vulnerability, integrity and equity. Experiences of critical infrastructure are not equal, but highly contingent on political and economic priorities, influence and opportunity. Read More here
3 April 2017, The Conversation, From Smart Cities 1.0 to 2.0: it's not (only) about the tech. This is the second article in our series Making Cities Work. It considers the problems of providing critical infrastructure and how we might produce the innovations and reforms needed to meet 21st-century needs and challenges. Australia, one of the world's most urbanised nations, is looking to up its investment in digital technologies to make our cities work better. In coming months, tech companies, local governments and other eligible organisations will be teaming up to apply for round one of the federal government's A$50 million Smart Cities and Suburbs Program. The program is seeking ideas for prototypes and platforms that can help solve a local urban challenge of some kind. As the draft guidelines suggest, project funding could be used for anything from managing waste better, making local precincts more liveable, or helping citizens become more engaged with their councils, to developing systems that help planners better predict local development impacts. Compared to other areas of federal infrastructure spending – like roads – $50 million for smart city investments may not sound like much. But it's a bit of a windfall for an area that has struggled to get off the ground in Australia for the past few years. Australia has been in no hurry to become smart. Overseas, many cities have put significant effort into building their profile as smart cities. They have invested in technology acceleration, data analytics, visualisation and instrumentation programs, and so on. Before launching the federal program, Australia had made relatively few investments in smart city programs. Those investments remained relatively modest. Read More here

New Resource Guide for Advanced Learning on Climate Change and Cities

19 December 2016: As part of its advanced learning series UN CC:Learn launches a new Resource Guide for Advanced Learning on Climate Change and Cities, produced with technical advice from the United Nations Human Settlements Programme (UN-Habitat). The learning resources presented in this Guide are drawn primarily from within the UN and partners to UN CC:Learn, designed to inform interested groups in learning more about climate change in urban areas. This material complements the UN CC:Learn Introductory e-Course on Climate Change, as well as the Specialised Module on Climate Change and Cities, The PDF and Interactive versions are both available online at UN CC:Learn Resource Guides for Advanced Learning on Climate Change.
Covenant of Mayors for climate and energy
November 2016, The fight against climate change will be won or lost in urban areas. A vast majority of the European population lives and works in cities, consuming an estimated 80% of the energy used in the EU. Local administrations, as the closest government level to citizens are ideally placed to address climate issues in a comprehensive manner. More and more cities are thus deciding to take up the challenge, as shown by the growing number of Covenant of Mayors signatories.The commitments for Covenant Signatories are linked to the European Union's Climate and energy policy framework. These include the European Union's climate and energy package for 2020 for signatories who have joined between 2008 and 2015 and the European Union's 2030 climate and energy framework as well as the EU Strategy on Adaptation to Climate Change for signatories joining after 2015. As of October 2015, Covenant signatories commit to adopting an integrated approach to climate change mitigation and adaptation. They are required to develop Sustainable Energy and Climate Action Plans with the aims of cutting CO2 emissions by at least 40% by 2030 and increasing resilience to climate change within the first two years of adhesion. More details and the list of cities that have signed up to the Covenant of Mayors can be found here
May 2016, A Basic Guide for Local and Subnational Governments
The Paris Climate Package reflects this position by recognizing and committing to engage local and subnational governments in fast tracking transformative climate action. This paves the way for local leaders to raise global ambitions, accelerate action and leverage resources unlocked through the new climate regime. Using the Paris Climate Package as a guide, local leaders can shape and sustain the global transition toward low carbon and resilient development, slashing greenhouse gas emissions and enhancing local resilience, adaptive capacity and climate impact emergency preparedness. It is essential that all actors now use the Paris Climate Package as a compass for future action, yet its implications require further unpacking to understand what it means at the local and subnational levels. ICLEI – Local Governments for Sustainability (ICLEI) has developed this guide for local and subnational governments to address four key questions:
The road towards COP21: What processes led to the recognition and engagement of local and subnational governments in the Paris Climate Package?
Local and subnational governments at COP21 in Paris: How did local leaders engage in Paris?
Key outcomes of the 2015 Paris Climate Package: What does the Paris Climate Package mean for local and subnational governments?
Accompanying the implementation of the Paris Climate Package through integrated local transformation: What steps should local and subnational governments take to support implementation of the Paris Climate Package?
Good reasons why local government should be shaping climate policy

6 January 2015, The Guardian, Five reasons why local government should influence climate change plans. Local authorities are closer to communities and often more innovative than national governments. Cutting them out of climate negotiations is a big mistake. Unless we, as an international community, significantly reduce our carbon emissions by the year 2100, temperatures could soar by 4.8°C. The impact is unimaginable. This is why all eyes are on the next UN climate talks in Paris in 2015 and expectations are high. During the UN preparatory talks in Lima in December 2014, I represented the Committee of the Regions – the EU's assembly of local and regional authorities – and demanded that local government be formally recognised as a key player in all future climate negotiations. The initial talks were promising but the final text was disappointing, with the reference to local government being removed. But why should local government shape international climate change agreements? Here are five reasons:

1. The buck stops here: Local government is on the front line and is responsible for taking a wide range of decisions that can make or break the success of any international strategy on climate change.

2. Local leaders are more innovative and ambitious: The economic and social impact of climate change on communities cannot be understated. Local governments are leading the fight against climate change, taking decisive action on transport emissions, urban biodiversity, urban regeneration and waste management.

3. No one is better placed to get the public on board: One of the key roles local government can play in contributing to a global climate agreement is public engagement and stimulating local action. What is striking at many international climate conferences is how cut off citizens are from the negotiations and decision-making process.

4. Strong local leadership can mobilise communities: Strong local leadership and forging partnerships between local governments will cut costs and improve policy delivery. But local government needs support and investment to mobilise communities, businesses and civil society to reduce the impact of climate change. It is these representatives that can bring together economic operators and civil society to turn good ideas into tangible results – cooperatives for local energy production are a good example of this.

5. Think local, act global: Local governments can make a difference in international negotiations. While the international process of intergovernmental negotiations has almost ground to a halt, local governments around the world are agreeing on priorities for action. Decentralised cooperation arrangements have been established between regions and towns and cities. This is vital in establishing trust that national governments need to reach an ambitious global agreement. Read More here

ICLEI: Tools dedicated to sustainable local change

The ICLEI Virtual Library provides access to over 100 publications, including reports, flyers, case studies, posters. Access library docs here

City Talk – A blog by ICLEI: Access ICLEI's latest enewsletters with stories of sustainability-related news and commentary from around the globe. 

ICLEI Oceania is the Regional Secretariat for ICLEI. The ICLEI Oceania Head Office is hosted by the City of Melbourne and was established in 1999. The ICLEI Oceania Water Campaign – Australia Office is hosted by the City of Melville, WA. ICLEI Oceania provides support to Member councils and the Local Government sector that we believe adds value to our work to build sustainable communities. Our role is complemented by our World Secretariat based in Bonn Germany. The range of offerings is targeted at councils who not only wish to be leaders locally but to play their part globally. We in the Oceania Secretariat continue to build our capacity to advocate, partner, network and disseminate information. A list of Australian Councils which are members of ICLEI Oceania can be found here. 

Cities commit to cutting emissions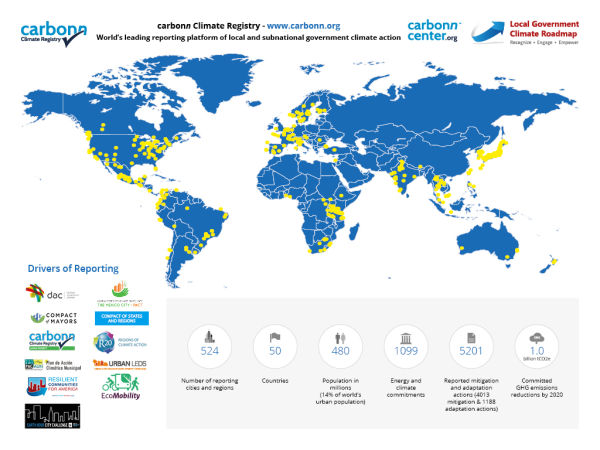 8 June, ICLEI, Cities commit to cut over 1 billion tons of greenhouse gas emissions by 2020 on carbonn Climate Registry. Commitments from local and subnational governments equal total reduction achieved by European Union between 1990 and 2012. 

New data published in the

carbonn Climate Registry: Digest 2014-2015

shows that more local and subnational governments have pledged to commit to measurable, reportable, verifiable (MRV) action on climate change. This latest compilation based on bottom-up reporting demonstrates the potential of ambitious and transparent climate action and provides an evidence base for negotiators to engage local and subnational governments as key actors in the new climate regime. ICLEI has mobilized Mayors and representatives of the cities of Rajkot, Bonn, Bogor, the Province of Barcelona, Tshwane, Dakar, Recife and Paris to deliver this message at the ongoing UN Bonn Climate Conference where nations are currently negotiating the draft pre-agreement to be adopted in Paris in December 2015. Entities reporting to the carbon

n

Climate Registry (cCR) now represent 480 million people, or 14% of the world's urban population. In total, 524 local and subnational governments are reporting on their cities and regions. This figure has increased 10 times from its 2011 level.

 

100 Resilient Cities – Pioneered by the Rockefeller Foundation (100RC)

is dedicated to helping cities around the world become more resilient to the physical, social and economic challenges that are a growing part of the 21st century.   100RC supports the adoption and incorporation of a view of resilience that includes not just the shocks – earthquakes, fires, floods, etc. – but also the stresses that weaken the fabric of a city on a day to day or cyclical basis.  Examples of these stresses include high unemployment; an overtaxed or inefficient public transportation system; endemic violence; or chronic food and water shortages.  By addressing both the shocks and the stresses, a city becomes more able to respond to adverse events, and is overall better able to deliver basic functions in both good times and bad, to all populations.

First Round – MELBOURNE'S RESILIENCE CHALLENGE: Vulnerable to extreme weather events, this Australian city has already made huge steps toward increasing its resilience.

Second Round – SYDNEY'S RESILIENCE CHALLENGE: Growth and aging infrastructure, combined with frequent heat waves, are spurring innovation in this bustling metropolis.

Yet another report on the importance of building resilient cities – we know what and how to do it but it still seems a lot more talk than action 

2013: BOUNCE FORWARD Urban Resilience in the Era of Climate Change (A Strategy Paper from Island Press and The Kresge Foundation): In an era rocked by climate change and other large-scale disruptions, our cities must be resilient in order to survive and thrive. But what does that mean, exactly? What is known about urban resilience, and what remains to be explored? And how can we put thinking into practice to create the resilient cities of the future? To help answer those questions, Island Press launched the Urban Resilience Project in 2013, with support from The Kresge Foundation. We began with a survey of the existing literature on resilience and reached out to a diverse group of organizers, researchers, planners, and other urban change agents. In a series of interviews and an all-day assembly, we listened deeply to what they had to say. This report endeavors to capture what we learned. Access PDF here

Other sites for global cities' get togethers

The Covenant of Mayors is the mainstream European movement involving local and regional authorities, voluntarily committing to increasing energy efficiency and use of renewable energy sources on their territories. By their commitment, Covenant signatories aim to meet and exceed the European Union 20% CO2 reduction objective by 2020.

The C40 Cities Climate Leadership Group, now in its 10th year, connects more than 75 of the world's greatest cities, representing 550+ million people and one quarter of the global economy

United Cities and Local Governments (UCLG) represents and defends the interests of local governments on the world stage, regardless of the size of the communities they serve. 

The World Mayors Council on Climate Change is an alliance of committed local government leaders concerned about climate change. They advocate for enhanced engagement of local governments as governmental stakeholders in multilateral efforts addressing climate change and related issues of global sustainability. There are presently over 80 members of the Council, representing a vast network of local governments working to reduce global greenhouse gas emissions. Membership is open to Mayors and equivalent leaders of municipal levels of government.

Through CDP, cities around the world are measuring, monitoring and managing their impact on the environment. Over the past five years, CDP has worked with 207 cities to manage over 1 billion metric tonnes of greenhouse gas emissions. CDP's cities program demonstrates that cities are better managing their risk and increasing resiliency through more than 2,000 activities to mitigate and adapt to climate change. They hold the largest collection globally of self reported climate change, water and forest-risk data.

U.S. cities and their energy efficiency policy and program efforts

The American Council for an Energy-Efficient Economy (ACEEE) is a nonprofit, organization,which acts as a catalyst to advance energy efficiency policies, programs, technologies, investments, and behaviors.

USA cities energy efficiency scorecard ranking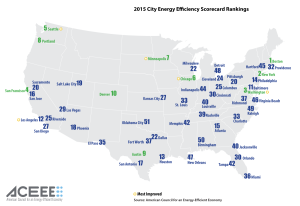 Every other year, ACEEE ranks the largest U.S. cities on their energy efficiency policy and program efforts and provides recommendations for ways that the cities can improve their performance in a variety of policy areas. The City Energy Efficiency Scorecard serves as a benchmark for city efforts, encouraging cities to continue strengthening their efficiency commitments as a pragmatic and effective strategy for promoting economic growth, securing environmental benefits, and increasing their communities' resilience in the face of the uncertain costs and supplies of the energy resources on which they depend.Also listed are cities and counties that are not included in the City Scorecard. While these cities are unranked they have used the Local Energy Efficiency Self-Scoring Tool to organize information on their efficiency policies and to generate scores equivalent to those presented in the City Scorecard. 

You can access the most recent City Energy Efficiency Scorecard rankings here. Under each of the cities listed you will find: local govt summary; energy efficiency goals; performance management strategies; procurement & construction; and asset management. Throughout the information there are direct links to documents

Local Policy Case Studies: ACEEE also has case study information that describe efforts by local communities across the United States to improve their energy efficiency.  Included are examples of notable initiatives across a variety of policy approaches, economic sectors, regions of the country, and community types.  This collection is a work in progress and will continue to expand over time as we highlight additional efforts from around the country. Access these case studies here