What you will find on this page: practical knowledge for adaptation; resilience benchmarking for community organisations; adapting Australia to climate change; risk assessment; insurance industry tracking risk; maps & graphs; resilient societies (video); new future ideas (video); cost of adaptation; Earth Economics;  fire management; latest news
"We cannot solve our problems with the same level of thinking that created them" – Einstein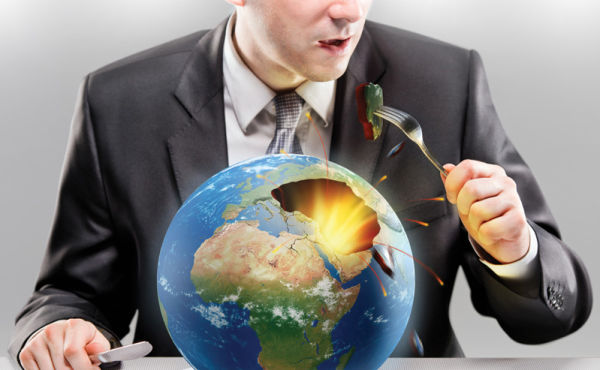 Efforts to build community resilience often focus on growing the capacity to "bounce back" from disruptions, like those caused by climate change. But climate change is not the only crisis we face, nor is preparing for disruption the only way to build resilience. Truly robust community resilience should do more. It should engage and benefit all community members, and consider all the challenges the community faces—from rising sea levels to a lack of living wage jobs. And it should be grounded in resilience science, which tells us how complex systems—like human communities—can adapt and persist through changing circumstances. Six Foundations for Building Community Resilience (Post Carbon Institute) describes how communities can approach the full scope of the 21st century's challenges equitably and sustainably. Access report here or click on the image. Also you might like to access another PCI report "Can We Have Our Climate and Eat It Too?"
NCCARF (National Climate Change Adaptation Research Facility) is developing a synthesis and communication program to condense and translate technical research information developed in its first phase into digestable communication products for a diverse audience of end users. The program has adopted four modes of delivery:
1.  Synthesis summaries: These short summaries (6-8 pages) will provide a simple synthesis based in the first instance on the findings of research from NCCARF Phase 1. They are based on themes identified from research projects (Portfolio themes) and stakeholder needs analysis (priority risk areas). They cover the following topics: heatwaves; floods; cyclones & windstorms; bushfire; community vulnerability & resilience; terrestrial ecosystems. 
2.  Climate change adaptation briefing notes: These short one-page briefings are designed for specific sectors/decision makers. They provide a brief introduction to the key issues, climate impacts and adaptation options for that sector. The following briefing notes are available: community service organisations; finance officers; planners; engineers; local government executive; elected representatives. 
3.  Policy information briefs: Complementing the Policy Guidance Brief (PGB) series, these five Policy Information Briefs focus on key locations or challenges for Australia in the future. The briefs are aimed at policymakers in state and federal government. In each brief, we examine the features that characterise the challenges and their causes (both climatic and, in the broadest sense, environmental). The briefs explore the extent to which adaptive capacity exists, and what is needed for mobilisation. Adaptation options are considered and evaluated taking into account financial and welfare costs of the action and the avoided impacts. The five Policy Information Briefs are: Great Barrier Reef; climate ready cities; climate adaptive northern development' sustainable and thriving rural communities under climate change; adapting Australia's trade and aid policies to climate change. 
4.  Adaptation library: NCCARF have developed an improved search interface for information held on the NCCARF website. The Adaptation Library can be accessed here.
Do you belong to a community organisation?
10 June 2016,  ACOSS is launching a Disaster Resilience Benchmarking Tool – a project proudly supported by NCCARF's Vulnerable Communities Network (VCN) 
Resilient Community Organisations is a toolkit to support community service organisations (CSO) assess their preparedness and build resilience to disasters and emergencies.
Many CSO's have been affected this week by extreme weather, with violent storms and flooding affecting much of the East Coast. And, as many of you would know, community services are often the first port of call for many people affected by a disaster. But how ready are they?  How prepared is the community sector to support and protect the people most at risk if a disaster hits? Click here to read ACOSS CEO Cassandra Goldie's opinion piece on long-term effects of extreme weather events in today's Sydney Morning Herald. 
In 2013, ACOSS conducted a survey (funded by NCCARF) – the world's first – to find out how vulnerable the CSO sector is to extreme weather events. The findings were alarming – 50% of organisations would not be able to operate for a week, and a further 25% would close permanently if their buildings and critical infrastructure were damaged.
To help CSO's find out whether their organisations are prepared, ACOSS have developed the Disaster Resilience Benchmarking Tool  This tool has six steps, each with its own specific resources, to help CSO's assess and build their capacity for weathering a disaster. CSO's can work through the tools at your their own pace; By planning ahead, and ensuring that CSO's are prepared, when disasters and emergencies strike, they will be able to support those affected the most. Be one of the first to try out this tool, and work out whether your organisation is ready. Share it with your networks and help us get the word out to get prepared. ACCESS THE TOOL HERE 
28 July 2016, VCOSS, Communities working together in emergency planning. VCOSS teamed up with the Municipal Association of Victoria in June 2016 to present the third annual Emergency Management Forum, Working with community in emergency planning. The goal was to increase the levels of cooperation and collaboration between local government and the community sector. For those of you who were unable to attend the event or simply wish to relive a particular speaker's contribution (and who can blame you), we've prepared a series of useful summaries, and also included are links to the speakers' presentations in PDF format (kindly hosted on the MAV website). Access summaries here
November 2015: Third Sector / Not-for-Profit Sector Recovery in Post-Earthquake Christchurch Report
NOTE: Even though this report refers to earthquake recovery it holds many transferable learnings for ANY major community wide extreme event. Access full report here
INTRODUCTION: The Third Sector (sometimes called the community sector, or the not for profit sector) has been, and remains, central to helping communities and individuals recover after the Christchurch Earthquakes. Many organisations in the Third Sector were affected by the earthquakes. This research was aimed at understanding how these organisations are doing five years on and what earthquake-related issues are still going on for the sector. 
A literature review (See Appendix 1) looking at the recovery of other cities that had faced disaster, and recovery in Christchurch to date, revealed that likely ongoing effects would include:
Direct effects on the Non-Government Organisations (NGOs) and their workers (whether voluntary or paid). These include issues associated with accommodation and insurance.

Increased demand for the services and changes to the ways organisations provide those.

Changes in the organisational environment in which NGOs function which includes opportunities for new alliances, and changing funding streams.

Likely differences in the fortunes of NGOs across post earthquake Christchurch.
The view from the front line: Adapting Australia to climate change
Prof. Jean Palutikof founding Director of the National Climate Change Adaptation Research Facility (NCCARF) at Griffith University, provides a graphic picture Why do I think her view is worth considering? Professor Palutikof was based at the UK Met Office during which time she managed the production of the Intergovernmental Panel on Climate Change (IPCC) Fourth Assessment Report for Working Group II (Impacts, Adaptation and Vulnerability). Professor Palutikof is among the foremost scholars of climate change adaptation and was lead author and review editor for several assessments of the Intergovernmental Panel on Climate Change (IPCC). Access article here 
NCCARF Adaptation Library: The NCCARF Adaptation Library holds and provides links to research reports and information to help support decision makers throughout Australia as they prepare for and manage the risks of climate change and sea-level rise. Search the NCCARF Adaptation Library by selecting location, resource type and/or topics, as well as key words.  Mark resources as a favourite to create a list of resources to remember. Access Library here
NCCARF REPORT: Supporting evidence-based adaptation decision-making in Victoria: A synthesis of climate change adaptation research. Access report here
Before you start changing things you need to understand the situation and the risks involved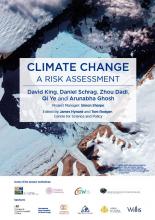 18 July 2015, Climate News Network/University of Cambridge,Climate Change Risk Assessment: The UK government says that climate change poses risks that demand to be treated as seriously as the threat  of nuclear war. Scientists from the UK, US, India and China say in a report commissioned by the UK that deciding what to do about climate change depends on the value we put on human life, both now and in years to come.
In a foreword to the latest report, Baroness Anelay, a minister at the British foreign office, writes that assessing the risks surrounding nuclear disarmament and non-proliferation means understanding inter-dependent elements − including what science says is possible, what other countries may intend, and systemic factors such as regional power dynamics. "The risk of climate change demands a similarly holistic assessment," she says. She concludes: "How much do we care about the effects of climate change? How important is it that we act to avoid them? What probability of their occurrence can we tolerate?…The answers to these questions depend in part on how we value human life – both now, and in the future."
The report is not the first to put climate chaos and nuclear devastation in the same category of risk, but its sponsorship by one of the world's nuclear powers is eloquent. It says the most important political decision is how much effort to exert on countering climate change, taking into account what we are doing to the climate, how it may respond, what that could do to us, and what we might then do to each other. 
This report argues that the risks of climate change should be assessed in the same way as risks to national security, financial stability, or public health. That means we should concentrate especially on understanding what is the worst that could happen, and how likely that might be. The report presents a climate change risk assessment that aims to be holistic, and to be useful to anyone who is interested in understanding the overall scale of the problem. It considers:
What we are doing to the climate: the future trajectory of global greenhouse gas emissions;

How the climate may change, and what that could do to us – the 'direct risks' arising from the climate's response to emissions;

What, in the context of a changing climate, we might do to each other – the 'systemic risks' arising from the interaction of climate change with systems of trade, governance and security;

How to value the risks; and

How to reduce the risks – the elements of a proportionate response.
"As the last of our contributing authors wrote, we have a battle on our hands: a battle to preserve a safe climate for the future. Powerful forces are engaged in this battle, whether we notice them or not. The power of vested interests to resist change, the inertia of infrastructure systems, and the unyielding laws of thermodynamics all seem to be arrayed against us."
Access Climate News Network article here – Access full report here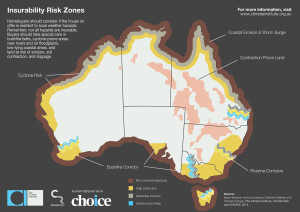 The insurance industry have been tracking the impacts of climate change for many years – they "get it" their existence and profits depend on it! Their risk assessments provide an excellent source of data for governments at all levels to consider when prioritising planning and funding decisions for adaptation measures. 
Source: Buyer Beware Insurance Climate Extremes Report 
An example: How an extreme event/damage is not linear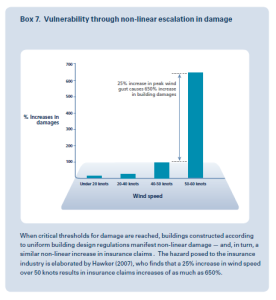 Source: Disaster risk reduction under current and changing climate conditions from the article is based on the scientific lecture given to Fifteenth World Meteorological Congress by the author entitled "Disaster risk reduction under current and changing climate conditions: important roles for the National Meteorological and Hydrological Services" (2007).
Extracts from article: It has  been said that "the house is the first line of defence against hazards". Forensic analyses often reveal that structural failures of infrastructure (e.g. houses, electrical distribution lines, communications structures, dams) result when climate extremes approach the structure's critical design values and then exceed its safety limits. Forensic studies show that, above critical thresholds, small increases in weather and climate extremes have the potential to bring large increases in damage to existing infrastructure. These studies indicate that damage from extreme weather events tends to increase dramatically above critical thresholds, even though the high-impact storms associated with these damages may not be much more severe than the type of storm intensity that occurs regularly each year.  
An investigation of claims by the Insurance Australia Group (IAG), indicates that a 25 per cent increase in peak wind gust strength above a critical threshold can generate a 650 per cent increase in building claims (Coleman, 2002)….  Similar results have been obtained for flood and hailstone damages (Freeman and Warner, 2001; Munich Re, 2005; Swiss Re, 1997. 
Insurance industry response to increasing climate change risk
3 February 2015, Risk Management, Climate Change and its Impact on the Insurance Industry: It may be hard for people who experienced a polar vortex to believe, but 2014 was the hottest year ever globally. This global warming has consequences. The U.S. Supreme Court recognized in 2007 that there is a relationship between global warming and severe weather events. And severe weather always has been a driver of property and casualty claims. It is no surprise that the insurance industry has been considering the impact of climate change for years.
For example, Munich Re has done studies estimating that domestic weather-related losses have increased fourfold since 1980 and that extreme weather events led to more than $500 billion in covered losses between 1980 and 2011. The incidence of hurricanes, superstorms, and mega-tornados will increase as temperatures rise. Flooding incidents will become more frequent as sea levels rise as a result of climate change. In addition to hurricanes, superstorms like Sandy, and mega-tornados, scientists predict 50% more lightning strikes will occur domestically over the next century based upon increases in precipitation and temperature. Additional risks include habitat loss, famine, and an increase in diseases such as malaria because of wetter weather conditions spawning mosquitoes.
An increase in weather related claims may put financial stress on some sectors of the insurance industry. In 2010, the National Association of Insurance Commissioners (NAIC) adopted a simple eight-question disclosure survey assessing the risk of potential-insurance-company insolvency resulting from climate change and related global warming. Read More here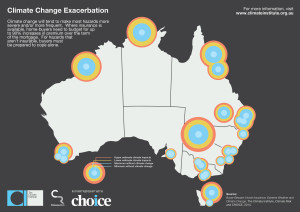 For those into sport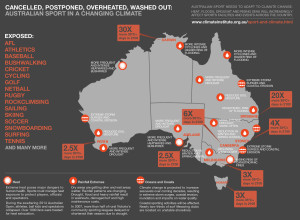 What would be the characteristics of a Resilient Society?

Wanting some ideas for a new future?
Resilience.org supports the building of community responses to the many inter-related crises of our time with information, resources and connections. Resilience is a program of Post Carbon Institute, a nonprofit organization dedicated to helping the world transition away from fossil fuels and build sustainable, resilient communities.It is an excellent place to find what people are doing to transform the way they are living and rebuilding their communities An example follows… 
1 May 2015, Resilience.org: After Disaster, Tactical Urbanism Builds Resilience (Mike Lydon) "…In this way, Christchurch has become an epicenter of tactical urbanism – a strategy that harnesses the ingenuity and spirit of communities to improve city life. Tactical (also called emergent, adaptive, and user generated) urbanism deploys a broad range of short-term, low-cost, scalable interventions…" Read More here
EXPLORE The Great Transition Initiative which is an online forum of ideas and an international network for the critical exploration of concepts, strategies, and visions for a transition to a future of enriched lives, human solidarity, and a resilient biosphere. By enhancing scholarly discourse and public awareness of possibilities immanent in these troubled times, and by fostering a broad network of thinkers and doers, it aims to contribute to a new praxis for global transformation.
23 April 2015, WRI, The Costs of Climate Adaptation, Explained in 4 Infographics: s global temperatures climb, so do the costs of adapting to a warmer world. Severe weather events are becoming more frequent, creating major budget pressures for national governments, especially those in the developing world. So how much money will the world need to protect itself from these impacts? And how much money are we currently spending to solve the problem? Here's everything you need to know about the current state of adaptation finance: Read More here
Earth Economics: What is our planet worth?
Working Together to Value All Our Resources: Earth Economics is a non-profit located in Tacoma, Washington, dedicated to researching and applying the economic solutions of tomorrow, today. Earth Economics provides robust, science-based, ecologically sound economic analysis, policy recommendations and tools to positively transform regional, national and international economics, and asset accounting systems. Working with leading ecologists, economists and modelers, they serve a large circle of businesses, non-profits, government agencies, policy makers and media channels with research, reports, presentations, workshops and investigations. 
Fire Management – the old, a new way forward
From the Autumn 2015, issue 63, of the Victorian Landcare newsletter, "Landcare groups in parts of north east Victoria are partnering with Traditional Owners ro revive the use of traditional fire knowledge. The partners are using fire as a land management tool to reduce fuel loads and are conducting field trials to rejuvenate native grasses, train young indigenous men and regenerate healthy ecosystems. Read More here (page 4)
For more background on traditional fire management:
Creative Spirits: Aboriginal fire management. When fire-managing country Aboriginal people consider a plethora of parameters.Read why cool fires are key and why the canopy is sacred.
8 October 2009 ABC Catalyst, Carbon Country Update: "Right across northern Australia, uncontrolled wildfires (seen here in red) incinerate an area bigger than Victoria every year. And that's a greenhouse problem too. This annual firestorm emits more carbon dioxide than all of Australia's coal-fired power stations combined…." Read More here
7 November 2015, ABC: Scientists working together with indigenous land-managers have reduced Australia's greenhouse gas emissions by half a million tonnes. Video and read More here
25 May 2013 Landline, Pip Courtney: "Although the Australian continent is shaped by fire and flood, large-scale devastating bushfires are a man-made modern phenomenon. That's the view of distinguished historian Bill Gammage, who argues that Australians have failed to understand their environment…" Read More here
2014, Victorian Eco-Innovation Lab, The University of Melbourne Report: Visions of Resilience Design-led Transformation for Climate Extremes: Climate change is an amplifier of natural disaster risk. Future planners and emergency managers may well look back enviably at current risk conditions. A growing body of research across finance and insurance [1, 2], global development [3], and national security [4] describes a near future with a radically different risk landscape to the one we now operate in. Today's extreme events are shaping to be tomorrow's norms.
Climate change impact research has moved well beyond questions of 'if and where' to focus on unpicking 'how quickly and how much'. The picture from this research shows whole-scale shifts in environmental conditions are occurring at many spatial scales. It only takes small changes in global averages to transform climate conditions at the regional scale. Regional shifts are again amplified at the 'local' scale. For communities in towns and suburbs this means radical changes to the weather extremes they are accustomed to. The 0.80 C increase in global temperature recorded so far is already driving the formation of weather events that lie outside the bounds of local experience in many parts of the globe.
Since the 1960's there has been a ten-fold increase in areas experiencing 1-in- 100 year heat events (with an assumed 1% annual probability) [5]. The 2009 Victorian heatwave that preceded Black Saturday and the Russian heatwaves prior to the 2010 wildfires were at this scale. With decades of additional warming 'locked-in', the spread and intensification of heatwaves will continue – possibly beyond our comprehension. Recent climate modelling projects that in a few decades, small areas (3%) of the planet may even feel 1-in-4,500 year magnitude heat events [6]. These lie far outside historical experience; we have no comparisons. The amplification of heatwaves is just one symptom of climate change. Major shifts will occur in most areas of the environment, and a growing body of recorded data shows changes are well underway. Read full report here